I am always on the look for apps, videos, blogs, and resources to try, research and learn from. Back in December, I had the opportunity to try out the Peloton digital app for a month. I have seen the bike and the treadmill at a Peloton store in the past at a shopping mall near my house. I know several people swear by it and their training programs. Their vast Live or recorded classes and group studio activity library are key elements of why people love the solution. Here I tried to write down a few of my findings.
1st impressions: I have to admit that when I first use the app during a short 4-mile run, at first, I was overwhelmed by the rapid excitement, talk and go! go! go!!! approach. For the 1st mile or so I was a little bit doubtful that it was going to work for me. But after mile 2 and halfway into the run I was kinda getting into it. I was liking the app approach more and more. The one I selected was a series of intervals after a very short warm-up. Pushing every 30 seconds speed spurs and slowing down for 15 or so. At the end of that 1st run, I had pushed the pace on and off and I was surprised about how well it felt at the end. It is just you running, but it felt like I had someone next to me talking and providing some guidance. (coaching my run in a limited but effective way) During thaty run, I ended up running a couple miles faster than I have in many months. That repeated in others sessions as well, coincidence?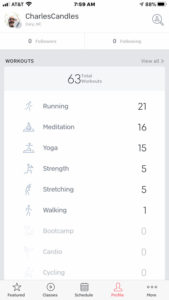 I use the app for other runs, always using a new recorded class. Every week the peloton app kept adding newer sessions for all areas. I used the app for Yoga, Meditation, Treadmill running, Strenght training and of course outdoor running. I used the app 63 times in the span of a month. For me, not all of them came with the same great effect. Some experiences were good, a few so, so and just couple that landed in the nah realm.
Meditation Sessions: It was just ok. There were different time options from 5-30 minutes and different instructors. I am not too much into meditation, but compare to other apps that are designed and tailored for meditation I think it was just ok.
Yoga: It was good. I use their beginning and intermediate classes. I found them very decent and diverse. They have a section called Yoga Basics which was very useful to learn the "correct" way for poses. It will build step by step the what, how it should look and how it should feel. I learned a few things and modified some other poses that I was perhaps not doing "correctly". I enjoyed those sessions very much.
Stretching Sessions: I was curious about the type of stretching they will have for runners. It was interesting you could find pre- and post- run stretching session. 10 minutes of some dynamic and hold poses. Nothing too strenuous but useful. I use a few, especially post-run stretching. It kept me from doing too little and from working the same muscles.
Strength Training: I have my routine and I have never been a fan of group classes. So in my opinion and for my taste, this was the weakest of the classes I tried.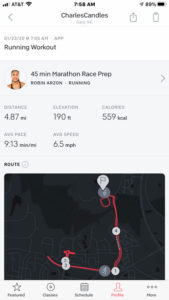 Outdoor Running: I used this option the most. My long runs can take multiple hours as I enjoy the long distances (12-25 miles). The app has multiple time options, from 10-60 minutes. So, I found myself using multiple classes during my long runs. That worked great, sometimes pushing the pace at different stages of the long run. I also used the app for the 3-6 miles work weekdays. From intervals, easy and steady runs there was something to keep it interesting.
Indoor Running: Using the app you do not need the Peloton Treadmill. Although they go over at the beginning about the nobs and controls (Very short) You can easily follow the instructions and I was also fun. I am not a treadmill super fan, I can use one and have done long runs and workouts. I put my phone in front so I was able to see the class as I listened a followed the instructions during the run. Again very interactive and engaging, making the treadmill a fun possible tool for running.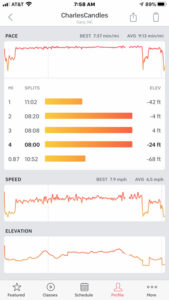 Generally, in most of the classes, the instructor keeps the conversation going, sharing their advice and stories. Sometimes making that personal connection with the stories. Like their dog's name and mischiefs in addition to their personal experience during training and events. Why they selected that music or which one was their favorite song and why. Making it and keeping it real for the listener. I liked that, you do not know what is going to happen. I was very surprised and pleased with the app. I can easily see why people like it so much. I did not try the cycling at all, which it is supposed to be their strength and main element. Good app and will recommend others to give it a try to determine if the monthly fee will work for them.