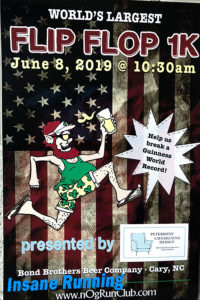 Today I had the fortune to be able to run with my wife, mom, and uncle, what it could possibly be the World's Largest Flip Flop 1k event. It was a lot of fun, the main requirement was to cover the distance on Flip Flops.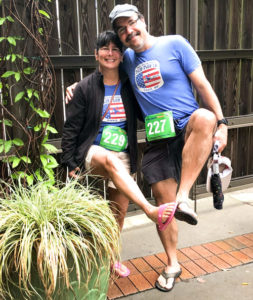 My Mom and Uncle were visiting from Puerto Rico and after taking them to Umstead Park for a 2-mile hike and a UNC Botanical Garden excursion earlier in the week I signed them up for the event. They have always wanted it to know a little bit more about running events and this was a great opportunity for them to have the experience without having to run/walk 3 miles or more.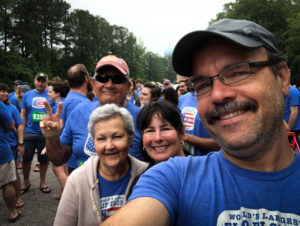 The event ran smoothly, a few food trucks, music, and sponsors were ready in the start/finish area. Those in addition to the brewery Band of Brothers which was offering their beer as well. There was a worry about It was a lot of fun to be able to share the experience with them and perhaps have a chance to be part of breaking a world record. Frosting on the cake.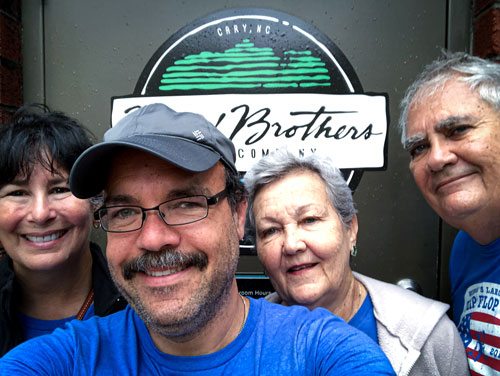 | | | | | |
| --- | --- | --- | --- | --- |
| Month/Year | Event | Location | Type | Time |
| Jun-19 | NoG World's Largest Flip Flop 1k | NC | 1k | 17:13 |
Event Highlights ; Learning Points
Highlights:
Course: Great ample road right from start to finish. The course is mostly flat with short rolling hills.
Venue: At finish, plenty to drink and party music.
Expo: No Expo.
Weather: Overcast, warm 77º with just 85% humidity.
T1D: Sugars reamined good.
Fueling: Pre-Race: Latte and toast.
Race: None.
Post: Mango Smoothie.
Learning Points:
Running with the family can be a lot of fun