"I always say if the marathon is a part-time interest, you will only get part-time results."
-Bill Rodgers
Alright, it has been more than 100 running miles using Vi. Or I might say, running with Vi.  Vi is a Bluetooth headset from LifeBEAM, that once pair with the mobile App, provides you with information, data and company during your runs. Its voice recognition feature allows you to interact with Vi. Similar to Siri and Alexa in a bit smaller scale but enough to keep a very interesting approach. AI App acts like a coach/trainer to help you along the way. I used to own a previous trainer, Pear, back in the day where I could have a stand alone piece with my iPod shuffle. But I have to admit that hearing the same message it became old. They discontinued that model and today I can't find more workouts for it. (Maybe I have not bothered) They switch to a Mobile App. This time I decided to give Vi a try.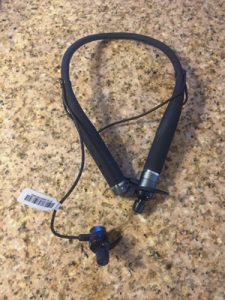 It has three run modes (I have not tried Cycling mode yet), running by Distance, running by time and an unbound free run. I have to admit that I was a little concern about hearing the same type of message every single time. I was pleasantly surprised with the variety of message, comments, and advice. Some messages relate to the current weather, some based on your prior recorded workout. It will remind you to take it easy or to switch things a bit. During the run, it will keep you update at certain intervals (That message sequence is mostly the same, but it will happen at the different points of the run) with your stats. You can select the type of information you want to hear when setting it up. You can interact with voice commands also and ask for information. Vi will know how fast you have done your fastest mile, 10 miler, 13.1 and longest run. With that information, Vi will provide you encouragement when getting close to beat any of those milestones.

Most of my runs I run alone. I will use the phone music library or you can use your Spotify account (Premium accounts only) during the run, Vi will lower the volume to interact with you and then back to the normal volume. The variety of the comments has kept it fresh so far and sometimes hilarious. Yes, there have been a few comments that are repeated, but still, after two 14 milers and a bunch of 4 & 6 mile runs I am happy with Vi and the way it kept me company.
There are some downsides so far:
I can't (Or I have not figure out how to) set a specific workout, like repeats. Vi knows I need to switch speeds once in a while, but I would love to structure more the run.

Definitely not recommended to use when running with others or in a group, since Vi will interrupt your run without knowing that you are actually talking to someone.

For longer run (I'll say more than 8-10 miles) it is like the comments are not flowing fast enough.

The 1st 6 miles or so of usage,

its

in learning mode, so not too much chattiness

Also, there is no way to transfer the information of the run to places like Strava, Garmin Connect, and others. (You can share the run/logs out in an email or Facebook I believe)
Anyway, I was not expecting perfection and there might be some other features that will really enhance the experience. There were some connection Bluetooth problems during my first couple runs, but since then it has been pretty much steady. I would love to set some of the tempo or pace runs, to begin with, and get the verbal feedback to keep me in check during the workout. But if you are new to running, run mostly alone and want to hear some voice to keep you company or you a runner that just want to enjoy runs I believe Vi could be a good option to try. I will definitely continue to use Vi during my runs in combination with my Garmin Forerunner for the workouts.