"The year has 365 days, and I want each and every one of them to be exciting."
Mario Testino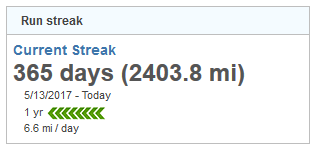 About a year ago, around 348 days ago, I realized that I ran for 17 days in a row. You see that was very unusual for me since I normally have Fridays as a rest day and either Tuesday or Thursday with a non-running activity.  At that moment I thought, can I make it to 25 days in a row? and I did. And then turned into, can I do 50, 100, 125, 150, you get the idea. Until I decided to go for the full 365 days.
So today I am very fortunate to say that with today's 4 miles, pace run/13 miles long run, I was able to complete 365 consecutive days with a minimum of at least 2-mile run or longer, every single day. I have to admit that even with the low 2-mile distance self-impose rule (There were many 13+ miles runs since I trained for multiple half marathons, few marathons, and an ultra during the last 365 days), it was not that easy. Most of the runs were outside runs, over roads, sidewalks, grass, pavement, packed gravel trails, single track trails, carpet (yep, at an airport. I guess security started to be concern with the guy that kept missing his flight and was running between gates.), sand and other surfaces. I ran in the rain, against wind, snow, ice, pounding sun, during the morning, midday and at night.
During those runs I can definitely say that I had very sore legs on multiple occasions, some painful and slow runs and some great feeling good runs too. Low and high sugars and tons of runs in the sweet running glucose range. But the most challenging part of completing the streak was the mental game, especially during the 1st two miles of any run. But quickly I realized that once I was out running I knew I was going to at least make the 2 miles, but the brain wants it to play games with me, why I was doing this? What was the reason? Who cares about it? Do I need more rest? is that a new pain I am feeling now? Maybe tomorrow just take the day off, do not run and rest. And so on. The beauty is that since I was already out the door running, it did not matter since, at a minimum, I was going to accomplish the distance. I let the brain play games with me during many runs. So it did not matter thinking about that, because it was not going to make a difference during that run. And once I was done, I was a happy camper.

Scheduling those runs was challenging too, especially for the days that due to schedule conflicts, meetings and work/personal commitments required me to wake up about 3 or 4 in the morning or get in a run late at 8 or 9 at night after a long day, so I could complete the challenge. There was also one other mental pressure since I was training for events I had to push the training limits without getting hurt so I could do the run the next day. A few occasions when I thought I was not going to be able to complete the streak, came early in the streak when I started to have some foot problem with my left leg. Then around the 200 days mark my left calf decided to give me some problems and recently my IT band was causing lots of stiffness in my left leg for a few weeks. I easy up the mileage but always completed the 2-mile daily minimum.

I am very happy that I was able to run every single day and that I had the support of my family and friends to complete this challenge. I am ready for a good solid day of rest and to start another adventure. What about you now? Could you start a streak going? It does not have to be just running or too far of a target. A good target could be, let's say… 4 days in a row of some physical activity. It does not have to be distance either. Time rules are great too 10 minutes? 30minutes? Can you do it? If so and you want to share your commitment, leave me a comment below. Insane Running will be happy to help you out.

Happy Running