About couple months ago my cousin asked if I will be interested in running a relay race with him. I think that day I was not necessary completely awake when I responded with an affirmative answer.
The event was the Ragnar ADK race which basically is a relay race of about 200 miles from Saratoga Springs to Lake Placid. 36 exchange points in which runners coordinate and exchange a race bracelet and segment by segment complete the distance.
There are two types of possible groups: One group is compose of up to 12 runners in two vans. Each runner will run three segments out of the 36. The other option is call the Ultra relay team, a group compose of up to 6 runners in a single van that will need to cover the same distance but with less available runners. So instead of a running 3 legs, you end you running 6 of them.
Of course, which one you think my cousin was talking about for us to do?
In preparation for the event, I increased the mileage of my back to back long runs over the weekends. Multiple weekends with over 25 miles and at least two weekends of over 30 miles for the two long runs. There were slower that usual pace miles, but at least I would train for the endurance portion to cover the necessary distance of the event. Some of the long runs were early enough that forced me to wear the headlamp that is required by the race coordinators for overnight running. I needed to make sure I was going to be ready for the challenge and not let the team down.
I research online about relay events and what to be ready for. Videos and websites that talked about how to pack, what to pack, what to do, how to train and specially how much "fun" it was going to be. I used the available information to get ready planning for different possible scenarios from weather conditions to getting low of sugars during the run. Since it was a multi-day and away event I needed to be extra careful with I needed to bring with me. I knew the team had a list of the food, fuel and liquids that we were going to have in the van for the team but I needed to make sure I had what worked for me too.
I packed all my running clothes in separate zip lock bags that I will later use to store the wet running clothes after each run, one bag per running leg. Also I prepared smaller bags for the fuel I was going to carry, and another set of bags for what I was going to take between the legs. Example of the fuel for in between segments were protein shake powder, gels or bars. Organizing it that way will minimize the time needed to find stuff around the bag, specially during the night time runs. I also printed out the route guide and prepared a table to track progress and be able to predict when the team were going to arrive at the exchange points.


We were 6 nut cases, we had Juda "The Visionary", Robert "The Dealer", John "El Capitan, Ragnar Fanatic", OV "The Italian Godfather" and Lou "El Primo" All of the team members coming from different running background and with various levels of relay experience. I believe I was the only one that did not had any relay experience. It was awesome to have the diversity and different personal styles. Great for late conversations and information exchange about running and their experiences. We got together the night before for dinner at a pub to go over a few details and plan the next 35 hours of the relay.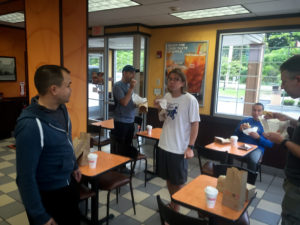 The day of the event the team ended up going to Dunkin Donuts for breakfast. I needed my latte, but no oatmeal for me, just a bagel with some butter. Although we were schedule to start at 11:00AM, we decided to arrive there earlier to see if we could start at earlier wave. We were fortunate to be able to start in the 9:15 wave, that was going to give us enough time to complete the distance and still drive back to near Saratoga were we were going to spend the night before going back to Newark Airport the next day.


Legs 1 & 2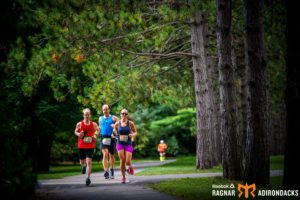 This initial two legs were the easiest legs. Although there were lots of up and down hills the net elevation was a loss of 93ft thru the 10.6 miles. My sugars were holding steady in the upper side of my running range. I started with about 6 other teams and at the start line I hang in the back. The view along the route was extraordinary. Running along the Lonely and Saratoga Lakes was awesome. My legs felt really good at all time. I pushed the pace looking ahead to the next runner to pass. I knew it was going to be a long distance event, so I kept a half marathon pace for this total of 10 miles. The team met with me at the 1st exchange I refilled my water bottle and continue pressing the pace. I believe I caught up to the previous wave of runners and passed a few by the time I finished the second leg. I felt great and still with a lot of energy at the end of this two legs. I checked my CGMS and sugars started to go up, did a small bolus adjustment to take care of it. I walked for a while to cool down then using the baby wipes and a towel dry and refresh. For recovery I had planned to drink my protein shake, a protein nut bar and cliff bar with the necessary bolus adjustment.


Legs 13 & 14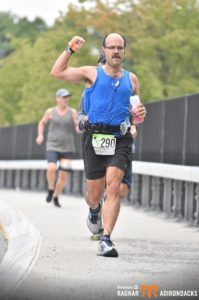 By this time it was around 6:00 PM, so I needed to get the night gear ready. Even though we arrived at the exchange with plenty of time, I miss calculated the arrival of the teammate and I had to rush a few things and start running. Which caused me not to be able to coordinate better with the team about at what distance we were going to meet. I had been watching the sugars throughout the day and they were kept within good range. The first portion of leg 13 I was able to cover with some daylight. Beautiful area, going thru a small town of Rush Hollow next to Lake George. Within the two legs there was a net elevation change of 274ft over the 12 miles course. About 2 miles in, it got dark all dark fast, the woods and the mountains on both sides made it difficult for any of the little sunlight to reach down at that time. The road narrowed making it a bit more dangerous with the vehicles passing along side. Also by this time the breeze that keep me cold banished and I was getting hot because I overdressed. The support van passed by and I did not had enough time to flag them to stop for them to take my sweater I was wearing when I started the leg. Two miles later I meet with them and I was able to take it off and run at much better pace since I was able to cool down better. Sugars were holding a bit on the low side, I took an energy gel.
Similar to the previous two legs, I target runner after runner, slowly getting close and passing them, until around mile 9, when one runner passed really fast. I pressed on a bit, but I knew I was not going to match the pace. So I was only able to slowly see him increased the distance between us. A while later after passing other runners, another runner passed by fast. What is going on I said? Am I slowing down? Then I realized that Ragnar does wave of groups at the start, staring with slower team and finishing with the fast one. So these runners got to be from the later waves, the faster teams. One more runner passed by and I pressed on. Although I was not going to be able to keep that pace I kept him on my sight. I only had about ½ mile to go until the next exchange.


Impromptu Leg
Around 3:00 AM, I was driving the Van while we had our runner on the go and the rest of the team was resting to get ready for their respective leg segments. I met with our team member at the exchange between his two legs, provided some fuel and water. He was in good spirits and although little bit tired he was eager to continue. It was the 1st 8 miles out of the 16 miles he needed to cover, the longest two legs combination. We decided to meet at the next 4 miles ahead.
I drove close to the 4 mile, found a nice area to wait for him. After some time, few runners passed by, when I saw far away two runners coming my way. One running at a steady pace, with a full light and the other moving along at just slightly slower pace but the light from the headlight was very dim. Who in the right mind will run with such dimmed light? It was enough for incoming cars to see him, but not enough to make what was laying ahead in the road.
Once it got close, I hear the runner say "Carlos, I am in trouble. I can't see!!!" OMG, it was our runner. I quickly handled him the water, offered fuel. I trade my headlight with his. There was no way he could continue with the headlamp he was using. I checked the back blinker and that one too was failing. I quickly grabbed mine attached it and of he went. Although in good spirits, he mentioned that his legs were giving him problems since a steep long downhill section. We agreed to meet up in about 2 miles to gauge progress.
At the 2 mile, I waited for some time outside the van. Some time passed and I decided to climb in since the temperature was dropping and was getting cold. 10 minutes passed, another 5, I started to get a bit worry. Should I turn around and find him? Then in the distance I see a runner, slowly making his way, wobbling and struggling moving forward. Once again I was thinking Wow!, that runner is in trouble, I hope his support van is near. As it was getting closer I yelled out to make sure that he knew I was here and for him to continue to just walk and not necessary to stop, when with a very tiring voice I hear the runner said to me "Carlos, I am done. I am in trouble." I thought Holy Tamales, it is our teammate. I quickly walked towards him and handle the water and helped him crossed the road towards our Van. He was exhausted and basically it was going to be very difficult and unsafe to complete the remainder 2 miles.
I jumped in to reaction mode. I had my next leg running clothes on already, since the next runner's two leg were going to be a short distance legs. I quickly removed my jacket and sweatpants. I had my safety vest on, I grabbed the headlamp and red blinking tail light back while waking my cousin up from the back of the van. "We need a driver." I said. The exhausted runner said "I can drive, I can drive" I quickly turned towards him and say, 'No you won't. You need to eat, drink and rest to get some energy back" I finish to get ready and left without phone, fuel or water since I knew there were only 2 miles to go and there were no time to lose. I was not aware of the route for this leg, I was not sure about elevation changes. As I started to run, I turned back and yelled out to our runner behind our van, "You are not driving! Let someone else do the driving." And off I went to complete that leg for our team around 4:20AM. 


Leg 25
After the impromptu warm up, I was ready to run my next leg. Sugars were still holding pretty well. I have been paying close attention to what I was eating between the time I was not running. Early on we decided that for the last legs, we were going to do sections of single legs instead of doubling it them up. Which it was smart of the relay veterans to suggest, since at this time we are running in really tired legs. My segment was a little bit over 5 miles long and basically one long rolling up hill. With a net elevation change of 282 ft., but 686 ft. of elevation gain. This one by far was my slowest segment with an average of 9:15 pace. I do not know if it was the darkness of the night, the long monotonous view or frankly maybe I was just tired. Very uneventful leg, other than I started my watch after a few minutes after I started running, so I was not sure about the true distance that I had covered, until the "1 mile left" sign. I slowly passed about 5 other runners, couple of them were walking the rolling hills. I finished pretty relaxed and still with plenty of energy. The sun was starting to provide the 1st glimpses of shine. It was refreshing.
My final leg, Leg 31
This final leg was a really good leg for me. Short distance of 5 miles and flat, with a total elevation net change of 83 ft, I can't complain. While waiting for our teammate, I was able to talk to another Ultra Team runner. It was her last segment, although she was signed for two legs instead of one. Her teammate arrived 1st and off she went. A few minutes later my teammate arrived and off I went as well. Since this was a no van support segment I was carrying my energy drink and fuel for just in case, even tho it was just 5 miles. There was supposed to be a water station at mile 3. 1st two miles were the slowest, still passing couple runners, but after that my legs warmed up and I found a really good pace. Running along the Ausable river was an awesome treat. Still early in the morning, the sun shining in, it was a magnificent route. I started to pick up the pace when further ahead I saw the Ultra team runner that I was talking to at the exchange. I pressed on and decided that I was going to catch up and pass. The 8:22 pace turned into a 8:15 pace followed by a 8:03 pace. I passed that team and continue to run strong to the end of the leg. I still had ton of energy and I was really happy to be able to complete this relay.


The Finish Line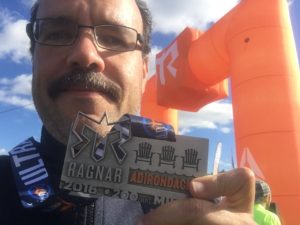 After the next few segments, our team proceeded to get to the finish line to receive the last teammate running the last leg. We all crossed the finish line as a team and celebrated with some food, beer and chatting with other teams about the experience of completing the relay. I am glad that I was able to participate and was part of The Ravenous Pandas. Great group of guys, a great event to participate and test the limits of your own running capabilities.

| | | | | |
| --- | --- | --- | --- | --- |
| Month/Year | Event | Location | Type | Time |
| Sept-16 | Ragnar Relay Ultra Adirondacks | NY | 33M | x:xx:xx |
Event Highlight & Learning Points
Highlights:
Course: Great start, ample roads and great finish area at Lake Placid. Great ample road right of the start and for the entire course. Beautiful scenery, even at night time.
Venue: At finish, good food, water and beer. Extremely well organize event. Kudos to Ragnar, it is not an easy feat to coordinate a 200 mile with over 270 teams.
Expo:
Weather: Overcast skies, 45º to 66º with high humidity. (Some wind at one of the legs)
T1D: Sugars held steady during the 30 hours of the event. I watch closely my intake and did minor bolus adjustments.
Fueling:
      Pre-Race: 1 bagel and Latte.
      Race: E-fuel and E-gels.
      Post: Various food items, mostly cliff bars, protein shake, protein bar, water and coconut water.
Learning Points:
Ultra relays are doable and tons of fun.

It is necessary to train in a way that you can stop and start hours later and understand the discomfort.

It is very important to keep close attention of what you eat between segments.

Running with a team offers a completely different dynamics. It is an aweome experience.