My first attempt to a huge event with over 24k participants (That is just the runners). The Half Marathon at Walt Disney Word. With my wife and daughter took our time a drove to the area, the day before the race. Just arriving at the hotel at the Disney facilities and it was evident that for such big race, it was extremely well organized event, only the way Disney can make it happen, with their known recipe and Magic expertise. A quick stop by the Expo to pick the bib and let me tell you one thing, it was huge with tons of things to see, products to learn from, some to try. There were speakers talking about running, providing their advise but was unable to attend much of it not much time. We pick my and my daughter's bib for our events. Did I mention that she was running the mile event?
At the room, I prepared as much as possible making sure that I was not going to forget anything. Fuels gels (GUs), water bottle, Garmin, Ipod shuffle. Running clothes and shoes ready. In the morning, super early in the morning, I needed to be at lobby of the hotel by 3:00AM to be able to get in the buses that were talking the runners to the race/event area. SO, took a banana as soon as I woke up, quick stop to the bathroom, got changed, grab my stuff, made a mental check and left the room to get in the bus. At the lobby there were few runners already waiting. The bus arrived and it already had a few runners from the other hotels. We drove off and another quick stop to pick another set of runners now filled with all kind of runners all exited to be able to run this race.

At the start area near Epcot parking lot, tons of people, runners, music very well organized. Quickly you walk toward the huge tent with well mark entrance for drop bag. A little time to kill, listening to the music, the show and the different announcement. Close to the start time, you start the walk toward the designated corrals. It is about a 1/2 mile walk, a huge group walking a finding their way the the start. The start of the race it is also surreal. Almost every corral get a set of fireworks. All of them get send out by Donald as the race marshal. A quick countdown and off we go.

During the event route, tons of music spots, things to see and to areas to take pictures. This race takes you to the Disney Park thru Main Street, around Tomorowland and running thru the castle. They will have different characters lined up a several points along the course for runners to take pictures with. But unfortunately I did not bring my phone or a camera. I kept going and pressed to finish this one as fast as I could. I needed to finish early since Bianca was running the Mickey Mile run later that day.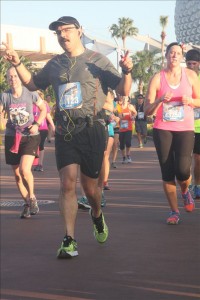 So I was very conscious about the time and worry about how long it will take me to finish hop back into a bus to get to the hotel. I tried to rush over the miles and rush by the water stations.  After exiting the park it was going back to Epcot for a quick run there towards the finish. The temperature started to rise and humidity was already high to begin with and I paid the price. From mile 10 and onward tons of walking, so thirsty. I could not replenish fast enough to quench my thirst. The choir with 1/2 mile to go was refreshing and inspiring, good enough to finish running and with a big smile on my face.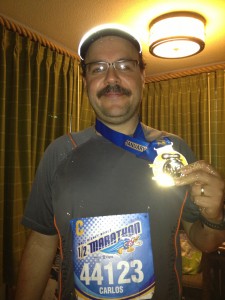 But even with the late struggle it was a great event. I was surreal the amount of people running. A sea of people in front of me and a sea of people behind. Completely worth it and amazing even for a 2:29:35. One big learning opportunity was the distance that I ran for the half, in my Garmin it was almost a quarter mile longer. I got me thinking that I have not been thinking about all the wide twists and turns. All of them add up in the end, why run a race longer that needed? Specially there were two very wide turns that I remember taking from the wide side of the road, all that started to add distance and time. I know next time I definitely need to keep an eye for that.
Also it was very interesting to see people with the Goofy challenge bib and I got kind of jealous. There were in all kind of shapes and form. I know I have not done a Full Marathon, (that is coming up soon) but if they are doing it today why can I?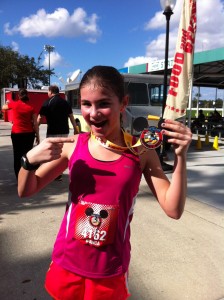 BTW, as for Bianca, she did great at her run. She was really nervous with so many kids running in her event but extremely happy and proud. The next day we all went to the park where we were able to see a lot of Marathoners finishing their event and the also the Goofy challenge. I knew they were past the 6 hours mark and still going at that time at Epcot which they will have about 3/4 miles to go. With that, "Next year… " I say in a lower inner voice, "…next year."
[vtftable cols="{0}0-4:c9daf8;{/}"]
Month/Year;;;{f1}Event;;;{f1}Location;;;{f1}Type;;;{f1}Time;nn;
Jan-13;;;Walt Disney World Half Marathon;;;FL;;;Half;;;2:29:22;nn;
[/vtftable]
[vtftable cols="{0}0:c9daf8;{/}"]
Event Highlight & Learning Points;nn;
Highlights:{;n}{;n}Course: {;n}      Street course. Mostly flat and one gigantic loop. Very scenic, going thru both Walt Disney World and Epcot. {;n}      Do not forget you get to also cross the castle. {;n}      The water and aid stations are well manned and awesome. {;n}      Watch out for the cups laying in the floor, it becomes slippery. {;n}      They offer energy gels, different flavors too. {;n}      Due to the amount of runners, picture opportunities I will not consider this event an event to PR for time. {;n}      But if this is your first half and you just want to finish, I recommend this one 100%.{;n}{;n}Weather: {;n}      Sunny and warm. It was also very humid.{;n}{;n}Goodies and Expo: {;n}      Very nice long sleeve technical running shirt. The Expo one of the best one I have ever attended.{;n}{;n}T1D: {;n}      Sugars within running range. During run just a tad high.{;n}{;n}Learning Points:{;n}      Running a huge event can be nerve wrecking at first.{;n}      Running in a completely different area (State, course, town) allows you to experience new thing.{;n}      Sometimes you need to bring you camera to an event. Specially to an event like this.{;n}      Check for the coordination of the event. Staying in the event hotels made life super easy.{;n}      It is possible to run a half marathon and later that day visit the park.{;n}      Not all races are to PR, there are other goals in life.;nn;
[/vtftable]