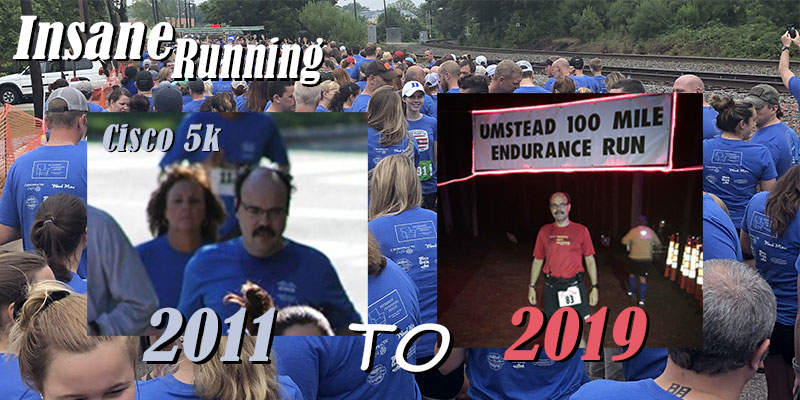 2019 Running Summaries
The year 2019 is about to be over. This morning I went out for a fast 7 mile run with some good friends one last time this year. After reflecting on the year, I am very happy with this year's performance. Couple big PR's this year, another 50k PR at the Derby 50k were I was able to improve once again my 50K mark for over 20 minutes compared to the previous year's PR. But more importantly, I completed my 1st 100 miles event, Umstead 100. It was an amazing experience. Similar to last year I was able to volunteer and pace a few events this year the Umstead Half, City of Oaks Marathon, Skinny Turkey Half and the Durham 13.1 Holiday race. All of them turned out to be a really good experience and a lot of fun.
 In a nutshell, 
Another year with over 2400 miles covered. (100 miles more than last year)

Even with that mileage, I feel very blessed of having another injury-free year

Paced four events this year.

Complete my 1st 100 miles race, well under 24 hours. Learned so much.

 Continued with the previous yearly challenge of running 13.1 distance at least once a week. Over 220 weeks and going.

Finished three Ultras this year, Umstead 100, Uwharrie 50k and Derby 50k. With a new PR for the 50k. 
Helped a group of insane runners complete their 1st 5k. Lots of great conversations.
Completed the Guinness World Record – Running in flip flops with the family.
I am very grateful that 2019 was another great running year. Many miles with many good friends. I am very grateful for all the support that I received from family, peers, the medical community, FB friends, Strava friends, running groups and running clubs. They all provided the energy, advice, and encouragement to continue to run and continue to improve in my personal life.
Once again I want to say thanks to my friends and family that in one way or another provided their support and patience while I continue with my insane running!
Happy New 2020!