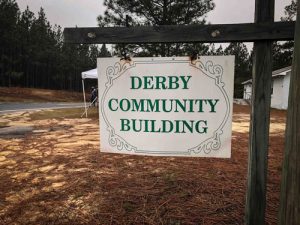 Last year I did Derby 50k and was able to run a 50k PR. This year I am back with the hopes that even though training has not been the best that I am able to better my performance at Uwharrie 50k and perhaps best last year Derby. After a successful pacing Coty of Oaks 5:00 Marathon, I knew that this event was going to be challenging to run a PR. If I want it to improve my time based on the performance I was going to push the pace right out the start. Same fuel preparations as last year for the event, couple bottles ready with E-fuel, have gels ready in my hydration belt, extra banana and my protein shake for post-event. But since last year the sugar cookies were a success, so good that I used them at Umstead 100 this year, I brought a bad of mini Nilla wafers to use, just in case there were not at the aid station. For the training plan, I continued to focus more on the long runs instead, sprinkling a few speed work at the track. This year I paced the 2:15 group at Skinny Turkey Half, couple days before Derby. The morning routine, as usual, hot cereal, latte and a banana to eat about 45 to 1hr before the start.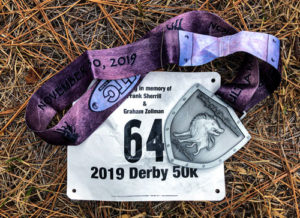 This morning the weather was better than last year, although a low key event, there were about 100 runners this year compared to the 60 last year. Given the weather conditions and forecast, I understand the larger runner participation this year. The Community Center at the start/finish provided shelter from the cold and have nice bathrooms that were always available. Although the temperatures were going to be excellent for running, it might get a little warm later in the day, so I decided not to wear any windbreaker to prevent overheating. A few other runner friends, Laurie, Ultra veteran, and Genno, that paced the Umstead Half earlier this year and Walter another veteran, were part of the runners at the starting line. It was great to see some familiar faces from the Umstead 100 event. It was a beautiful morning with great temperatures and great farm fields around us. After some announcements, we all head out to complete the 3 loops to complete the 50k (31 miles) event.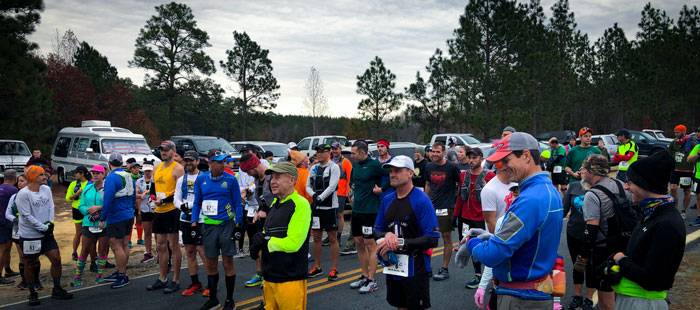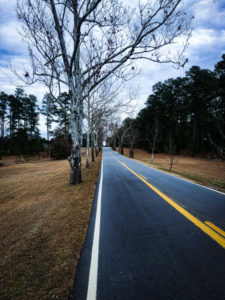 Loop 1: The Starting Loop – As we headed out, it was clear that it was going to be harder to finish in the top. Since there were 40 additional runners compare to last year. I took it very easy for at least a couple of miles as I was warming up and finding my groove. Talked to a few runners but quickly the group thinned out. Once again by mid-mile 3, I found myself running at a good solid comfortable pace, running by effort rather than looking to reach a pace. I was trying to run by a comfortable effort for the long run. I took a few sips of my energy drink once in a while. Sugars were on the high side to start, but I was feeling good. I skipped the 1st water station, but as I passed I checked for the sugar cookies. There were no running shoe shape cookies. During a long straight path, followed by a long downhill, I found myself quickly once again running at a comfortable pace. At the second water station, I grabbed some cold water, it was refreshing. The temps were still good, as I was approaching the last couple miles of the 1st loop, I was really happy that I was feeling good. There was a very long hill by mile 9 and was not a problem at all. Similar to last year, I check sugars with my CGMS closing into the end of the 1st loop and they were ok and stable. I had plenty to drink still in my bottle and had plenty of energy gels with me. So, I continued without stopping.
Loop 2: Semi ok Loop – Basically the same story as the first loop, feeling great tackling the rolling hills. I skipped the 1st water station once again and feeling great all the way. The hills did not provide any problems as I tackled them at a steady cadence and pace. My sugar continued to hold ok now. I decided to in addition to the energy drink to start to use my mini Nilla wafers. One waffle every .1 to .15 miles to make the time past by fast. Similar to last year around mile 18 I turned on the music since there were not many runners around me and it felt that I needed to concentrate on keeping the effort going. Once in a while, I will see a runner in the distance, which I targeted and slowly catch up with them and pass them at a steady pace. As I was closing to the finish of the second loop there was a runner trying to pass, I pressed the pace to not let him, pass me. I remember seeing him at the start/end station when I finished the 1st loop, he probably has been following me for quite some time. I was feeling good, a quick stop, replace my energy drink bottle and off I went to start my final loop.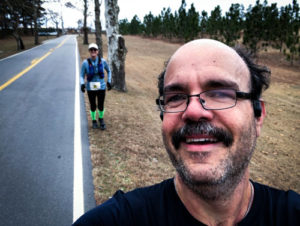 Loop 3: Trying to push the Pace Loop – I started the third loop, thinking if I was going to be able to finish before the 5:00 mark. I knew I was going to finish the event but was I going to improve compared to last year's performance? Under 5? This time at the 1st water station I stopped drank some water, replenished my water bottle, thanked the volunteers and continued. I saw a few runners ahead of me walking, as I pass them, taking my time approaching and passing by at a steady effort. I tried to cheer and encourage them to hang in there and to continue. By the time I got close to the second water station, I had to walk some, still with good time I was feeling that from now on it was going to take more effort if I want it to finish under 5:00. I kept going, trying to take it easy on the pace because the last hill was going to take a lot of energy. By mile 29, I walked a bit. After a few minutes, I looked behind me and the same runner that was chasing me just passed. He was running slow but solid. I tried to keep him within striking distance without much success. I have to walk a bit more and checked the time, no way I was going to finish under 5:00. I knew I was going to PR but did not remember if it was going to be close or not. So I started to run again, maybe at a slower pace than the 1st 28 miles but decided to continue to run until the end. I passed a few other runners and finished with a decent pace and with a great smile.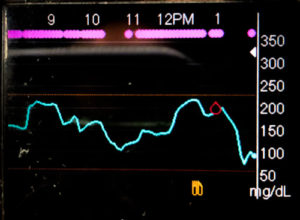 At the finish line, there was a very warm welcome. I got another beautiful medal, talked with the few runners that finished ahead of me and volunteers. Similar to last year, they had great food and dessert for the runners. I ate some spaghetti with meat sauce they were offering to the runners, plenty on my plate. While eating I checked my CGMS again and I was happy to see how well my sugars behaved during the whole event. Few things I need to adjust given that my next event is about twice the distance. But extremely happy with the run, and another PR, by close to 20 minutes better compared to last year's performance. I will continue to recommend this event for a 1st Ultra and not 1st Ultra.

Event Highlights
| | | | | |
| --- | --- | --- | --- | --- |
| Month/Year | Event | Location | Type | Time |
| Nov-21 | Derby 50k | NC | Ultra | 5:06:25 |
Course: Looped 3x course with great ample road right of the start. Rolling hills, not challenging until the last loop hill might look steeper than the beginning loops. Around 85 runners. With the ample road, there is no problem starting and finding a comfortable easy pace.
Venue: At a Community Center, good bathrooms and seating areas to rest before and after the event. At the finish, good food, plenty to drink, and snacks.
Expo: No Expo.
Weather: 47º at the start with 76% humidity and hours of rain.
T1D: Sugars within running range, tad on the high side and stable throughout the event.
Fueling:
Pre-Race: 1 serving Hot Cereal, latte, and banana.
Race: E-Fuel two bottles, water, Powerade, Nilla wafers, and a Gel during Loop 3.
Post: Spaghetti with a protein shake within an hour of the event.
Learning Points:
Getting many long long runs are key to be ready

I can use different items for fueling, during training and events

Running multiple ultras make it much easier and even more fun than the 1st time