Insane Running here wishing you a
Merry Christmas!
and Happy New Year!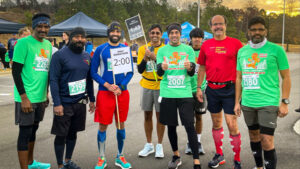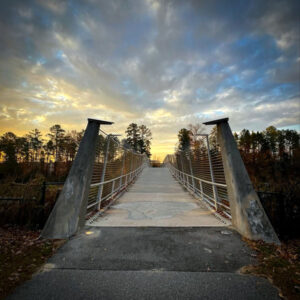 After completing Derby 50k, I was feeling great a little bit tired but ready for this my last event for this year. A couple of years ago I pace the 2:30 group, but this year I took advantage of a BibPass offer that allowed me to enroll in multiple events for a monthly fee. In the morning the usual latte with hot cereal and banana about 35 minutes prior to the start. The event coordinators changed the location slightly from two years ago. Mostly the same route but the start is from a different parking area. closer to my house which was great. I like this event location, close to home and flat course at the American Tobacco Trail. There I met with few a friends from previous events, like Skinny Turkey and the City of Oaks Marathon. It was great to get connected once again with friends and other runners.
For today's event warm-up, I decided to do a longer warm-up than usual. I jogged about two miles, going out about a mile out the initial route of the half. I walked just behind the 2:15 pacers at the start line and after a few announcements, the National Anthem, off we went.

Mile 1-6: Very uneventful initial miles, temperatures were awesome. The sun was out but not bugging me much. The course was very flat with a few long rolling hills. Nothing challenging or anything requiring much effort. I decided to run by feel and effort rather than look at the splits. Legs were a little tired but doing ok. I did not bring fuel with me so I am going to rely on the aid stations for hydration and fueling. I started at the back and slowly I was figuring out who was ahead and slowly passing them. I passed the 2:15 pacers within a mile or so into the half. I am very familiar with this greenway/trail as most of my weekly mileage happens here. I knew when to push and when to hold some of the energy. By mile 3 I saw the 2:00 hour pacer group and decided to get the close hang with them for a quarter mile then press on. Couple more familiar faces, that we started to pass each other a few times and then since I was feeling good I started to press on as we were closing the turnaround point.
Miles 7-12: After the turnaround, I continued to press the effort at a steady pace. At this time there were a couple of runners that passed me. I tried to hang close but decided to let them go as I felt it was going to take too much effort and went back to the pace I had just after the turnaround. Nothing much to report here until as I was getting close to mile 10, when just about a couple hundred meters ahead there were the two runners. I was once again gaining ground on them. I kept them in my sights. I check my pace for the 1st time during the event, getting close to 9:30, but I needed to press just a tad more if I was going to close in on them. By mile 12 I was able to pass them grabbed some water at the water station and pressed a bit more the pace. I was holding a good decent pace and although a bit tired I was doing constant form checking.
Mile 13 to finish: The final stretch is mostly all downhill, I pressed a bit more and finish well under the 2:00 hour mark. I was very happy to once again finish another half under two hours this year.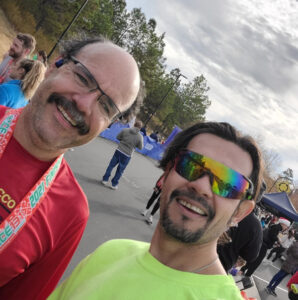 I hang around for a bit at the finish line area, talked to a few of the runners and friends as they were arriving at the finish line. I was happy to be able to meet Yuhsi in person. We knew each other from where I work and the running challenges. After that, I decided to do a quick 1-mile cool-down run.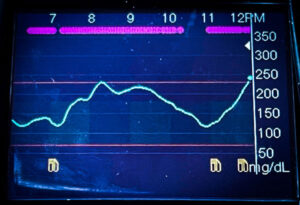 Pretty happy with the performance, from my sugars, they held ok, almost within ran get, for the most part, a tad on the high side. After the event, they always go up since I still had some of the fuel I consumed during the event still in the system, in addition to the after-event protein shake. As I was getting ready to head out back home, I received the link to review my results and to my surprise, I was able to finish this event in second place for my age group. Now, this is an awesome way to close the year.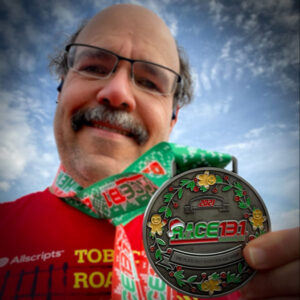 Month/Year

Event

Location

Type

Time

Dec-

21

Race13.1 Durham Half

NC

Half

1:55:17
Event Highlights
Course: Great ample trail/greenway right of the start, long rolling hills. With the ample road, there is no problem starting and finding a comfortable pace.
Venue: At a parking lot area near a Big Shopping Center, plenty of bathrooms and food for before and after the event.
Expo: No Expo.
Weather: Some clouds but mostly sunny skies, 47º with 87% humidity.
T1D: Sugars within running range and stable throughout the event.
Fueling:
Pre-Race: 1 serving Hot Cereal, latte, and banana.
Race: Gatorade at third and fourth station, water at others.
Post: Protein Shake within an hour of the event.
Learning Points:
Running by effort can release your mind from worries and stress.

Starting for way far and slowly picking runners can be an effective racing strategy, if gun time is not important.