This is part of a series of posts regarding how I am preparing, planning, and training to complete the 100 miles Ultramarathon Umstead 100: Journey to 100. For all the ultrarunning series, here is Journey to 100 last week's post, and for additional ideas, follow the link. Training for a 100.

During the past few training runs at the location, we have been practicing stopping at or near the area where the aid stations will be located. This is to get used to a few things, 1-They can serve as cues to take action, like asking yourself the question of how the fueling and hydration are going. 2-To get used to the distance between stations. 3-Count the stop as part of the training to have a better idea of the training performance compared to the actual event day.
Given the different stations, it is most important that we start thinking about how minimize the time at aid stations. As this is an important aspect of pace planning in ultra-running events, as it helps to ensure that you are able to complete the event within a reasonable time frame. Here are a few strategies to consider in minimizing your time at aid stations:
Plan ahead: Before the event, study the course map and locate the aid stations. Plan the route and make a list of what supplies you will need at each station or what will be available at the stations. Not all aid stations are created equal, so become familiar with what will be available to you at the different stations. Keep in mind that just because there is a list of items, they might run out of things or not be able to procure some of the items, be prepared to adjust.
Practice during training runs: If you are able to run at the route of the event, this will increase your familiarity. If the course is not available, then during your training runs, you could simulate the conditions you will encounter during the race, including the stops. Time yourself and practice your aid station routines to ensure they are efficient.
Carry the smart way: By understanding what will be available and where you could plan in such a way that you will minimize what you carry with you, and that will translate into less weight while running. On the other hand, you might also consider the strategy of making sure that you have all the supplies you need with you, like energy gels, electrolyte tablets, and a water bottle. This way, you can avoid having to stop at every aid station and save time.
Keep it simple: At the aid station, focus only on what you need and avoid spending time chatting or socializing. Have a clear idea of what you need to do and move quickly. If you have a crew and/or pacers, let them know how long you are planning to schedule for the aid station so they can keep an eye on the time for you.
Be efficient: Practice filling your water bottle or hydration pack quickly so that you are able to get in and out of the aid station as quickly as possible. Same with loading with other forms of fuel. Same if you are planning to change your running shoes or any other clothing or equipment. Windbreaker, rain jacket, running shorts, socks, head cover, and sunglasses, to name a few things to consider.
Be prepared: Not everything is going to work as planned; make sure that you have a backup plan in case of adverse weather conditions or other unforeseen circumstances that may impact your ability to refuel at an aid station.
By planning ahead, being efficient, and keeping it simple, you can minimize your time at the aid stations and focus on completing the event to the best of your ability.
Assessment:
During the training sessions, are you able to consider practicing the aid station.. Or at least simulate the distances between the? You want to gain as much knowledge and experience as possible to be able to tackle any unscheduled events or situations.
Planning:
Plan ahead what you are going to do. Can you set up your vehicle as the aid station? Instead of a long uninterrupted run, break the run in two or three out and back and practice the changeover.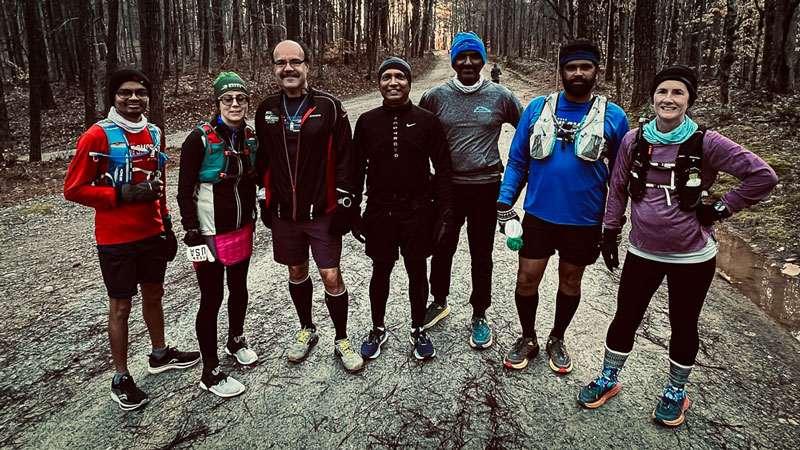 How is the plan going:
This week was another solid heavy miles week. However, we had one InsaneRunning runner still recovering from a very usual fall a few weeks back and another runner having to shift some runs and distances due to other personal commitments. This shows you how you also have to be flexible, adjust as you go, and figure out how to sustain your level of endurance still while managing life. Here are some highlights,
Monday: One easy mile followed by some strength training workout at the gym
Tuesday: Easy 6 miles. Happy Valentine Day
Wednesday: Morning stretches with some additional Yoga. Afternoon great InsaneRunning group session
Thursday: Rest day, although I had 3 miles scheduled. I needed the rest.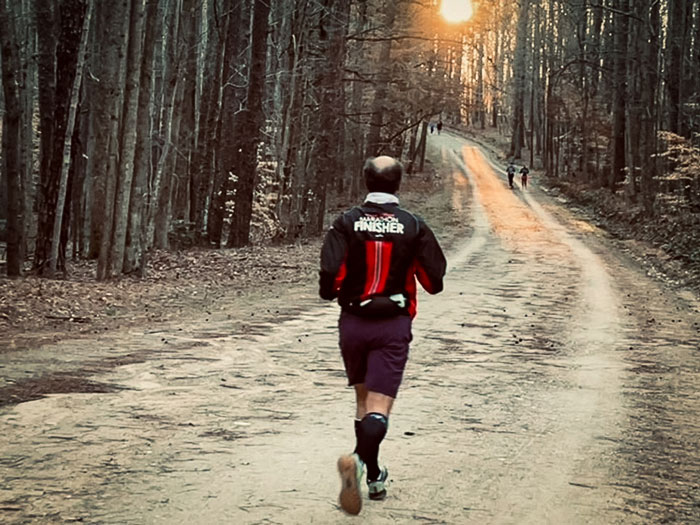 Friday: One easy mile followed by some strength training workout at the gym, mostly upper body. Evening 13 miles, pushed the pace a little bit, given some time constraints.
Saturday: Easy Umstead 20-mile run. Felt decent and very nice weather, and some of the Trail Sisters running group joined us for the morning run. It was great to run with Jamie as he was testing his run and ribs after the weird fall a few weeks back.
Sunday: Great weather, great group, great conversations. MounTinMan joined us this morning, and we spent hours chatting about ultra, tips, trick, and many other great topics. The time flew by fast. We scheduled two loops at Umstead. In the 1st loop, we definitely took it very easy, enjoying the darkness of a 3:00 AM run also coming from a good long 20-mile long run from Saturday morning. For the second loop MounTinMan and I pressed the pace a bit to finish with a faster second loop. This week's actual numbers:
Next Week Plan: Recovery week. I also have to change a few things this week very low mileage.