This past weekend I completed my 3rd 100 miles event at Umstead100. Many things went according to plan, and many previous lessons were applied to make this event an enjoyable one. But also, like everything in life, not all goes according to plan; there were many adjustments along the way as we had to adjust given what nature was providing us that day. I needed to shift goals along the way from switching Goal A (PR, which that decision went out the window about an hour or so after the start.) to Goal B (Finish under 24hr, which later in the day I had to readjust) to finally settle to Goal C, finish before the cutoff time. As usual, the whole event, coordinators, volunteers, the crew, and my pacers were outstanding. Well, let me restate that last group because Rahul, Rafaela, Amy, and Jay were phenomenal! I could not have had such a great event without them.
Thank you all for the support, and words of encouragement during training, during the event, and after the event. Special thanks for those texts, photos, videos, and messages that provided me with extra encouragement at different points of the event.
Below is the race recap,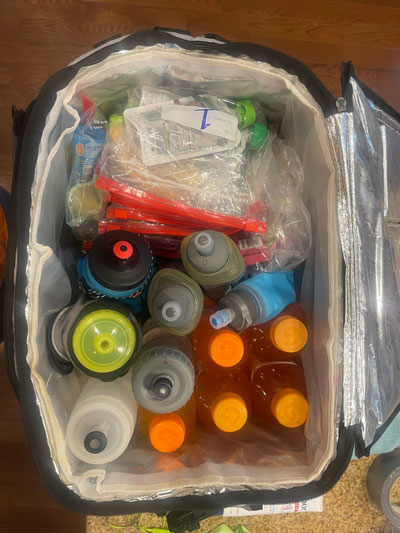 Let's start with some pre-race prep work. All the packing and labeling were completed a few days before the event. Adding some additional adjustments that were needed depending on the forecasted weather conditions and last-minute changes to the event.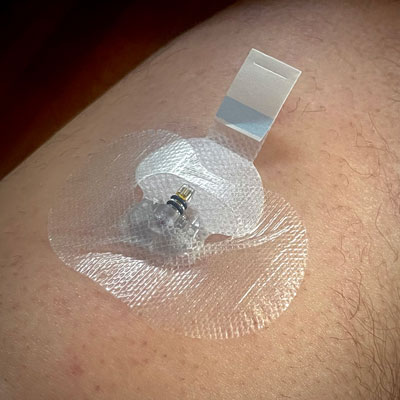 A new infusion set and CGMS sensor were in place for three days to make sure they were all good and operational to reduce the chance of falling due to sweat and movement and running out of insulin. New battery for the pump as well.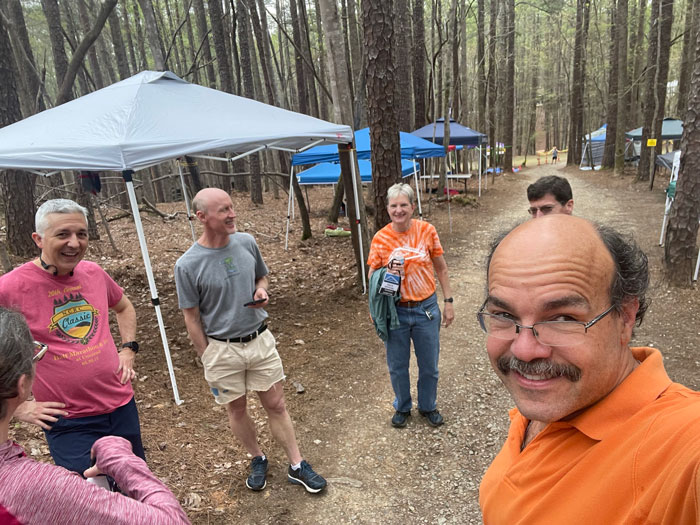 Met with Venu and Kaleel, and their families to set the tent/canopy in place the day before the event at packet pickup. It was great to meet them all. We also met with Rebecca, Jeremy, and Ronda, the race director, spending some time chatting about the event. We also spent some time talking and strategizing any final adjustments, planning, and visualization on how the flow coming in from the course to refuel, replenish, and change was going to take place. This was to minimize confusion and optimize for quickness in and out home base.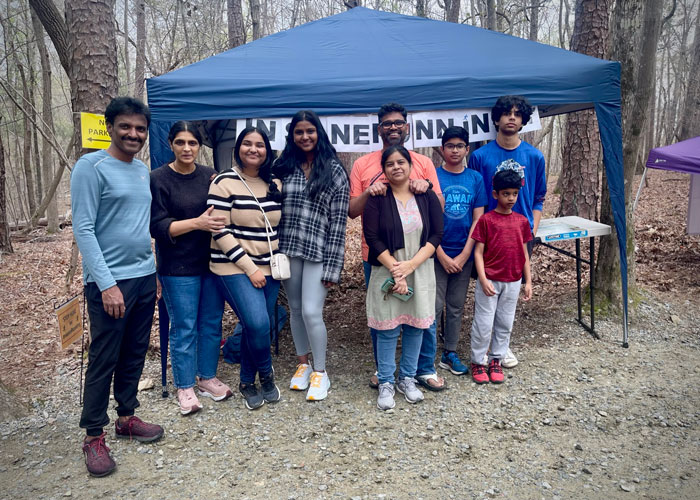 In the morning, sugars were great and within range. Drove early to the event to final setup of the home base station and followed to spend some time with friends at the start/finish area. It was so great to see Edwin and Jacky from Arizona. Edwin and I completed our first 100 milers back in 2019. Jay was also there helping us with logistics and ready to help any of the InsaneRunning runners. It was great to see him too.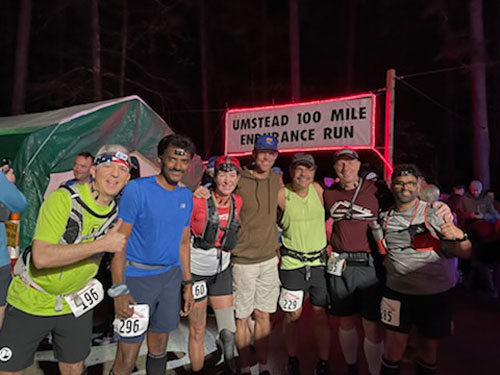 After a few announcements and the countdown, off we went to start the Journey to 100.
Loop 1:
With the temperatures mid-60s and a very light breeze, we headed out to tackle the initial miles of the event. We kept very close together at the start. With Hanna, Eric, and Jamie, we stayed together for the 1st couple of miles. Kaleel and Venu were just a few meters back, starting their own journey.
I knew the temperatures were going to start rising pretty soon, but I did not want it to push too much, as I did not want it a repeat of last year. So I pressed the pace just slightly, keeping an eye on my heart rate to make sure that I stayed in the blue or just barely in the green zone.
For hydration and fueling, I had a good plan in place where I was going to make sure I would have to drink a large portion of what I was carrying by the time of each aid station. And fuel at key areas of the route, taking in mostly two baby food packs and gels as a base.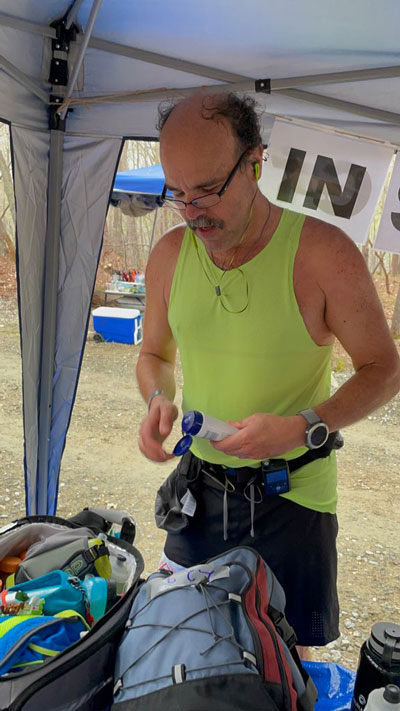 All was moving well as I warmed up, reaching the small aid station about 3 miles in. I was chatting with many of the other runners, all in good spirits.
On that first visit to the main aid station, replenished my fluids with more water. The location is new, and it is not bad at all. The water and Gatorade access location made for a pretty quick turnaround. The other fuel, snack, and solid food areas might take a little longer to get compared to previous years.
I continue to tackle the back portion of Turkey Creek Trail; with the temps holding around 67, I am able to run the uphills and still keep the heart rate within target. All is going well and within target pace as I reach the start-finish area. I stopped on the way in, replenished most of what I needed, and headed out to tackle the second loop.
---
Loop 2: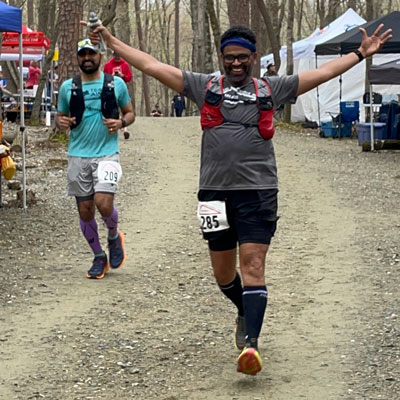 Temperatures are holding around 68 already, which is not optimal for my taste but good enough to keep holding the pace for a bit longer. Venu and Jamie we coming in to finish their 1st loop as I was heading out, maybe 3 to 4 minutes behind, which was fantastic, and not too far was Kaleel with a big smile.
I took the fuel as planned and continue to drink and refill at every opportunity. For fueling again a couple of baby food packages as well as a gel, I did get in a Larabar for 200 calories, but it took a while as even though I am drinking a lot of fluids, it is not settling as great as I want it. I was getting warm, so I removed my shirt and continued to see if the breeze that was hitting once in a while would help cool a bit.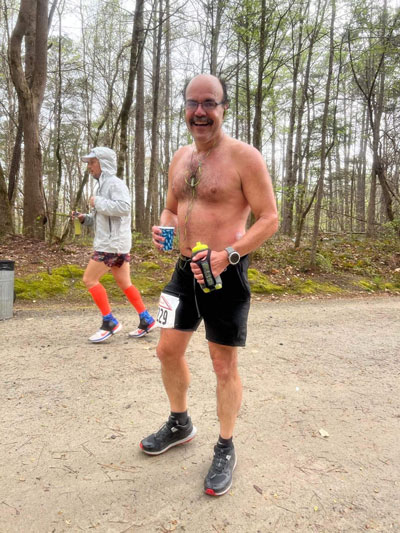 I power walk a few of the hills after the main aid station. So far, it has been so great to see so many familiar faces running the event. Some from last year and others that I have seen along the way while training. Others were volunteering at different areas and stations.
As I was reaching back to the home base area, I started to think about how I was feeling and that my stomach was not 100%. Still good, but I was wondering if the belt was too restrictive this early in the event. I decided to flip the order of the fuel system. I grabbed set #4 and left #3 for the fourth loop.
---
Loop 3:
I quickly switched the belt, lube, fueled, and grabbed my handheld. As I headed out, there were once again Venu and Jamie looking good and doing great. I asked Venu how he was doing, and he was in good spirits. At this time, I am listening to some music. Jamie thinks I listen to Celine Dione, but it is more like Chuck Mangione and Kenny G. LOL, I will do a post about what music I listen to at a later date.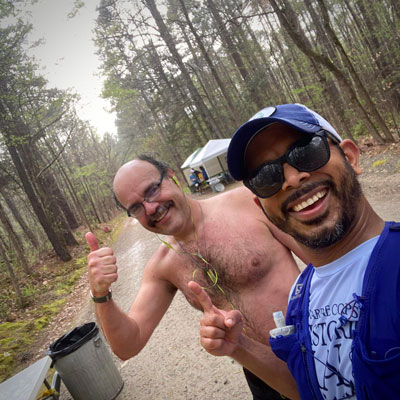 For fueling, I had the same approach, with the addition of some Cameos (a brand of cookies I really like). But I was still having some issues and was unable to consume the cookies as I originally thought. It was great to see Josh near the small aid station, cheering for many runners and friends.
Finally, the awaited rain started, it cooled me down fast, and I was able to take advantage of it and increase the pace. I was very happy as by the end of loop 2, we were already in the low 70s. But that happiness which was supposed to last from 1 to 1 ½ hours, was short-lived. I think, in a nutshell, it lasted just about 20 minutes, enough for couple of miles. And, of course, as soon as it stops, there is an increase in humidity and warmness that surrounds all the runners making it harder to sustain my current running pace with the same effort. It is going to be interesting.
Sugars were behaving fantastically; by this time last year, I was not performing well and was having low-sugar issues. This year's fueling plan is working out well so far. One thing, though, was that I came to the realization that I had not gone to the bathroom yet. That is not good, and that prompted me to start increasing my fluid intake a little bit more.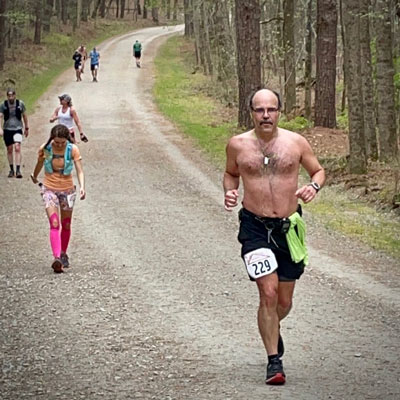 The rain, although it was welcomed for a few minutes, it did; it damped my running socks and shoes. I noticed that I was getting a few hot spots that got me a little bit concerned as I did not want it to get any blisters due to friction. I kept a good eye, paying attention to how my feet were behaving inside my running shoes. It was just during some of the downhills and in the early parts of walking that the issue was more noticeable. As I returned to the main area, all was well, and I slowed down just a tad more as the temperature was around 73 and humid. But all is well; according to this morning's forecast, we were only going to get these temperatures for a couple more hours before they were supposed to start to drop down quickly. The plan was to slow down enough, so I do not burn out early in the event and, as soon as the temperatures start dropping, pick up the pace as much as I could to see if under 24 was possible.
Loop 4: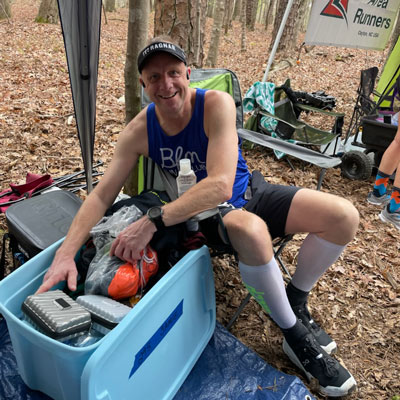 I grabbed the hydration belt once again and grabbed some Nilla wafers as I still had the Cameos with me but did not eat any of them. It was ok, as I was able to eat a few of the Nilla wafers. I decided not to change my running shoes, thinking that since there was not going to be any more rain and the issue seemed to have disappeared, at least keep them for one more loop. By this time, Venu headed out ahead of me, Jamie was just a tad behind. I was unable to cross paths with Kaleel during this loop, but I knew he was doing great.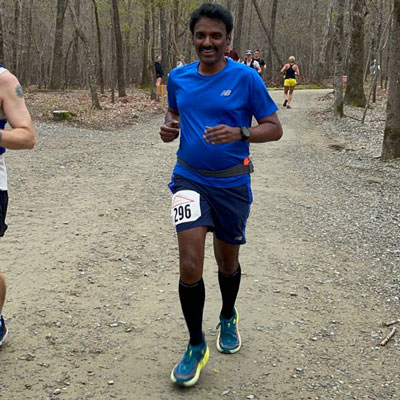 Now we are about 76 degrees and slowing down more to keep the heart rate under control. During the few portions where we are able to cross paths with other runners, between their smiles, you could feel the presence of not having much fun by this time. My legs were feeling good, my heart rate was in the green zone, and my sugars were once again in check. I was able to run alongside Hanna for a little bit, she pointed out that I was getting a little bit sunburn, and I totally forgot to put sunscreen on. I am glad she did mention it, as I should have put some at least once or twice already. I then decided to get a shirt on again at the end of this loop.
The one thing that I was able to do in this loop was to go to the porta-potty. That was a great relief as the fluid intake adjustment I did earlier it seems to do the trick.
Not much more going on at this time; my I-pod shuffle stopped working so I had many miles of reflection as self-discovery. Nah!!! I just started talking to others around me. It was all good, we were all in the same boat and trying to accomplish something big.
The issues with my running shoes came back around the same area of the course where there were plenty of downhill sections (There were plenty of uphill, too so it is not all roses here) where the hot spot came back. That made my decision easy to change my running shoes at the end of loop 4 with 50 miles in.
As I was approaching the home base, I stopped at the water fountain and poured some fresh water over my arms and head to cool down. It felt great and refreshing. I finished loop 4, and Rahul, my first pacer, was there, ready to jump into action.
Loop 5:
Oh boy, am I glad to have Rahul there for this loop. With the temperatures holding solid at 77 degrees, I knew I needed help and support. I sat down and quickly changed my running shoes to give my feet a chance to recover with fresh socks and shoes. Rahul and the crew there at that time helped me get the shoes and put them on. This time I sat down for it, instead of last year's, which I changed while standing. I was worried that I was going to get stiff like my 1st 100 miles when I sat down to change my shoes about the same distance, but I was pleasantly surprised that I stood up with ease and was able to get back into the moving.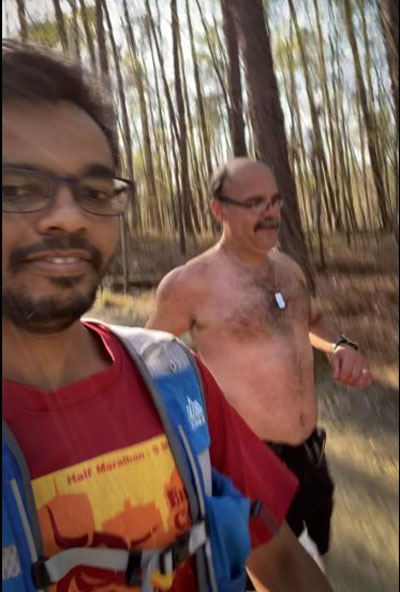 As we headed out, he got me some great soup at the main aid station; have I mentioned that the soup was fantastic? We spent some time going over the checklist and checking to see if he knew how the others were doing. He was going to carry the headlamp, which I knew we were going to need as compared to other years where I did not need it for this loop. That was an indication that I was going to need to pick up the pace if I wanted it to make it under 24 hours still. I remembered that I reached the end of loop 4 (50 miles) well past the 10-hour mark, making my slowest. But all is good because, according to the forecast, the temperature was going to start dropping fast all the way to the low 40s.
Even though it was Rahul's first time as a pacer for an Ultramarathon section, he was able to help me keep moving on, checking my sugars and how I was feeling, reminding me about fueling and providing guidance to the route, making sure I did not add too much extra distance during the turns.
At the water station, I took the chance to once again pour some cold water over my arms and head to cool me off a little bit. I felt once again a little bit better and fresh.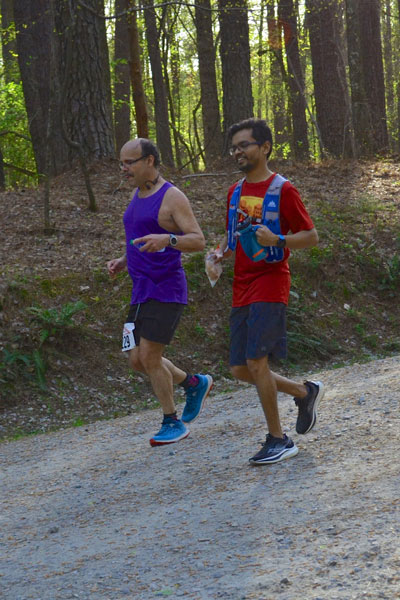 We talked about work, business, culture, and many other great topics. We also were able to chat with other runners. It was nice as it took my mind away from the temperatures and humidity. We got close to the aid station, and I was able to get more soup in addition to more fluids. No potato soup, but he got me some Lentil and one chicken which was great. My stomach was still not 100% as I was trying to really be on top of the fueling and hydration, as I was still able to go to the porta potty but felt like I was not sweating as I normally do. Once again, with the help of Rahul, I was able to get more fluid in. Now the downside was that my stomach got a little bit worse.
At the aid station, there was Samuel from Wednesday's InsaneRunning Group, who was volunteering at the water and Gatorade station. I was so happy to see him. He quickly helped me get some water and cheered for me as I departed the aid station.
We just continued, always reminding me to keep moving, jogging, and running. We are at the later part of the loop, and with lamp on hand, we continue. Temperatures are still low 70s and very high 60s. I was just waiting, as every moment; soon, it was going to drop to 50s. And then I can increase the pace, I just need to wait a little bit longer.
Loop 6:
Rafaela, a veteran runner, who was going to pace me during this loop, was ready to help me. She was kind to grab some soup at the main aid station. Amy, my loop seven pacers, was volunteering at the start/finish aid station and came out to check on me. As I updated both of them on my status and how I was feeling with my stomach, she recommended getting some ice with me for this loop so I could give my stomach a break and still get fluid in. Rafaela quickly got some ice in a bag for us to carry during this loop to keep the hydration as well as ease the stomach discomfort I was having.
At the home base, I sat down to finish my soup and get ready, risking a chance for my legs to shut or get stiff, but I needed a quick break. Lots of family members from Venu and Kaleel were there also helping to get ready. Jay, who had been a great help for most of the day, was there once again, helping me get ready. But this time, he had a surprise for me; he walked back into the staging area and grabbed what looked like a rolled tube of paper. As I rolled it open, to my huge surprise, it was an AWESOME picture of the scene from Forest Gump movie when he is running across the US and after three years into his cross-country journey, he stops in the Monument Valley area and in the background are lots of his followers. Jay managed to work with other running friends and his daughter to modify the picture to have my face and a 100 miles logo. It was phenomenal!!! I really got very emotional, and it was what I needed to keep going on this journey. Thank you Jay!!!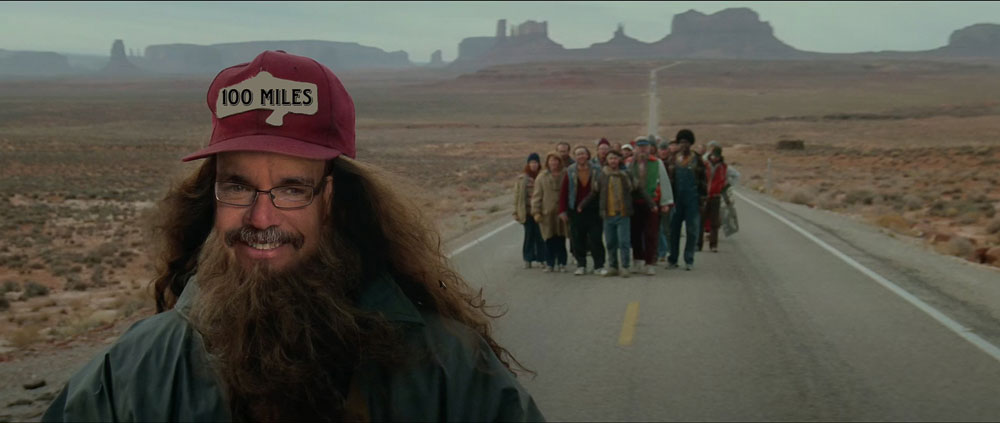 After that burst of energy, Rafaela and I headed out. About a half mile out, I realized that I had forgotten to use the lube. Although I did not have any issues so far, I did not want to risk it. I asked Rafaela if she would not mind going back to home base as I continued to pick a smaller tube of Aquaphor and catch up with me as the next section was out and back.
After that, we were still moving for the most part, the temperatures were supposed to come down, but it felt like very warm. I checked to see if it was me or real warm weather, and the temperature was still hovering at 74 degrees. For me, it was not optimal to start pressing the pace. I continued taking some more ice, drinking my fuel and baby food pouch. Sugars were holding well as my effort was a controlled one given the temperatures.
During an uphill section, I shared with Rafaela the videos I had created for the InsaneRunning group to get them excited about the training and the event. Although probably a little bit boring, she played along and had the video going on the phone. I was able to hear the audio, and that got me excited as well, as I also imagined the pictures and video as I was reflecting on the training and Journey that got us here. Thank you for entertaining the idea of playing the video, as it did help me move along.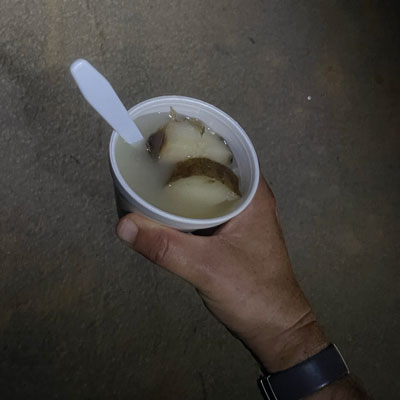 A little bit after that, we caught up with Bob, who was also tackling the 100 miles. We talked about family, work, and many other topics. Rafaela learned and realized that they had a few common friends. What a small world.
At the second aid station, they still did not have Potato soup, so we improvised, got some Chicken soup, and added a few baked potato wedges. That hit the spot! At the same time, Rafaela grabbed some more ice for me as the original ice worked fantastically, but it was long gone by this time.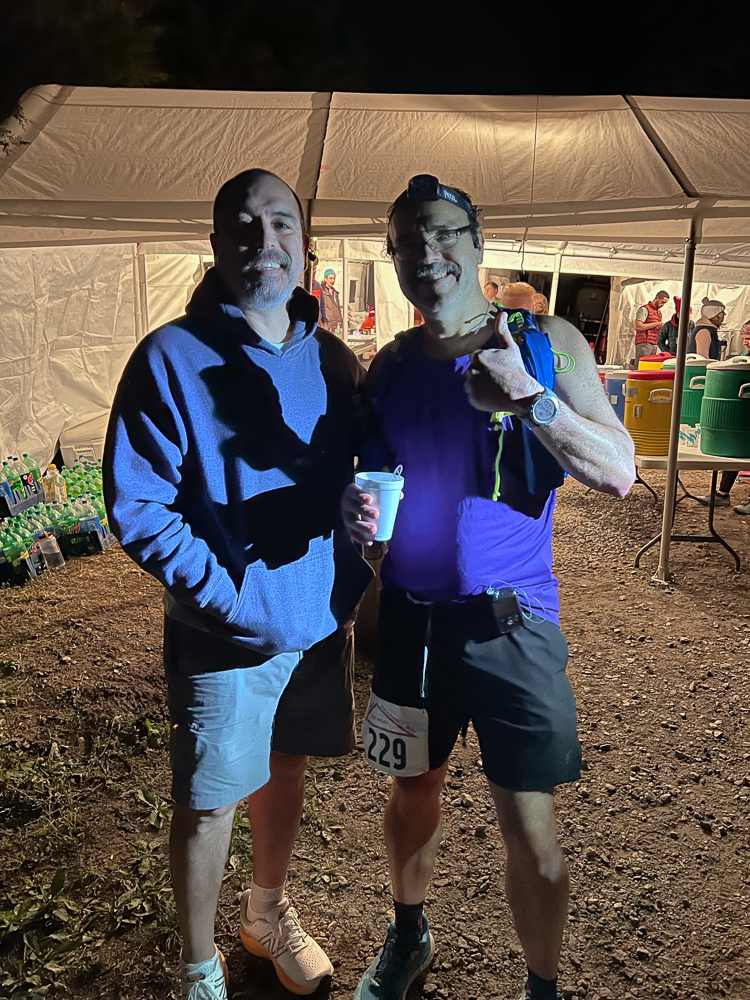 At the aid station, there was one of my good friends Roland with Celeste and Hanna ready to cheer for me. It was so great to see him, we chatted for a little bit as I was eating my soup and getting a little bit of fluid in before Rafaela and I headed out back to Turkey Creek trail.
We continued without any big issues, and the legs felt great, but the temperature was not dropping; the few instances of the breeze flowing through the trees felt great, but it was short-lived, not enough for me to take advantage of. We were easily moving during the flats and downhills and walking the uphills.
---
Loop 7: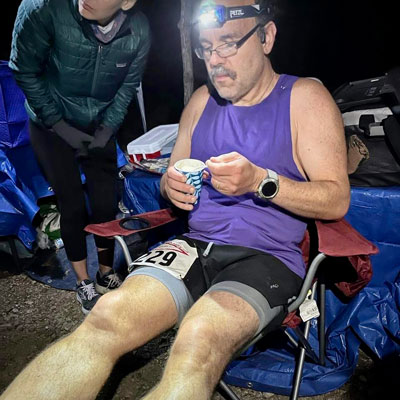 Amy was waiting for us at the aid station as I cruised once again around the start/finish with more soup and more ice. I decided to sit just for a bit to finish eating the soup, since last time the legs did not lock on me, so I took the risk once again. Scott, another ultrarunning veteran, was also there to assist. He was helping so many runners today that he probably lost count. As he did earlier in the day, he asked me how I was doing and if I needed something. Amy and Rafaela were on top of things and ready to get me out and moving. Scott noticed that my running shoe laces were a little bit loose; he asked me if he could help with that and proceeded to tie them snugly. That was great as it was going to prevent my foot from sliding inside the shoe and perhaps causing blisters or hot spots.
We headed out, the temperature now around 72 degrees, still way off from what I was hoping, but I still had a little bit of hope that if at least they dropped fast enough, I was able to pick the pace up a bit and with a final push I was able to come in within 24 hours.
We talked about everything, running, family, the moon… which, by the way, I learned it was a waxing gibbous moon today, or was it a gibbous moon waxing, or moon over tree… never mind, I think that knowledge is going to have to wait until next year.
We also chatted about diabetes, insulin, effort, carbs, and the trends. I shared my CGMS screen with the graph and showed the different trends over the last 12 to 24 hours. It was great to be able, as time passed, to see closely how they were behaving when I got fuel in, when for a short time, when a nice cold breeze passed by, I picked up the pace and effort, and shortly we could see the sugars behaving accordingly.
We chatted about the many running events and her hiking trips to the Appalachian trails. Amy has already covered many segments of the trails in multi days adventures. She told the story about the bear encounters and also the one time that they had to hike almost overnight to find a safe spot, as the bears were basically camping near the ridge where they were planning to spend the night. Hey, bears also like to take in the view in the morning, right?
At the second aid station, I grabbed some more water and soup, and we headed out to cover the back portion of Turkey Creek. It was still warm, I believe now high 60s, but as I was looking at the time fly by with not great progress on the mileage, I realized that I had to run at a faster pace on loop eight than the first loop to be able to finish under 24.
At the top of one of the hills, as we were passing some runners, we saw a couple of green eyes in the woods looking at us. Was it deer? Was it a raccoon? It was only one set, and I quickly pointed out it was not a snake as it was hovering well above the ground to be one. That did not land well, it must have been too early in the morning for jokes. 😊 But finally, we thought about a bear looking at juicy snacks moving along the trail. Maybe… just maybe.
Loop 8:
Now back at home base, the temperature, this time it had to be a miracle, started to drop below the 50s. That, to me, was my kind of running weather. But it was too late in the duration of the event for me to truly take advantage of it. With the 24-hour goal out of the question, my thought was to head out, have fun and reduce the chance of getting hurt.
Jay was ready for me and helped to get out quickly as we headed out to complete the final loop. I once again mentioned how much I appreciated the poster. He told me the story about how it came about and how he managed to get a few of our running friends, especially Arvind who in addition of being an excellent runner, he is also a highly skilled photographer and know his way about adjusting images to help get it done. Jay also mentioned how at the last minute he had to get some help from his daughter to do one final adjustment so he could have the image printed.
He kept reminding me to drink and fuel and checking for my sanity and well-being. We chatted about many topics as we are very familiar with philosophical discussions from the many hours during training and leisure running at Umstead and ATT.
At the second aid station, they finally had cream of potato soup ready, which I had some, now more for tradition than anything else. I say thanks to all the volunteers as it was going to be the last time (This year, that is) that I was going to stop there.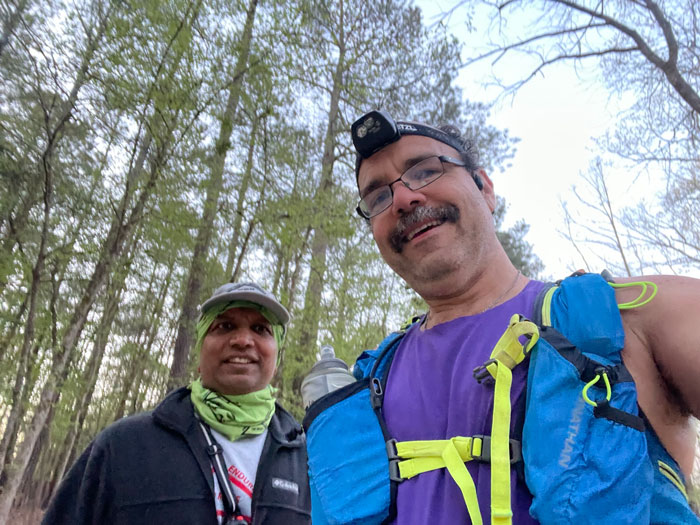 We saw the sunlight come up, and we continued making intentional slow, steady progress. Mostly walked as I knew I was going to finish well before the cutoff, and the 24-hour mark had passed by this time. I reflected a lot about running, training, seeing friends tackling the event, and managing all the struggles that life and the environment threw at them. I felt so blessed to have so many great friends, family, and a support team.
Jay started to take a few videos at this time, which forced me to start running, as I did not want to look like a slacker just because 24hr goal was out of the question. I started laughing every single time and picked up running. Thank you, Jay!!!, not really, thank you.
As I was reflecting on all this adventure, coming down Graylyn Trail long downhill, I heard a familiar voice, "Hey coach!!!" It was so great to hear Venu's voice, and he was so happy with a huge smile, moving fast down the hill. It was his time to shine, and I encouraged him to continue running and to finish strong. He mentioned that Kaleel was not that far behind, which it was also great to hear. Jay and I continued strolling and waving at many runners that were still heading out to tackle their last loop, most of them still smiling and happy to know that they just needed one last push to complete their mission.
Finish Line:
At the finish line, Venu completed his journey and was waiting for my arrival. Raj was also there, ready to film the portion toward the finish line, as many other great friends, cheering and encouraging me to finish strong, which it gave me the necessary reasons to pick up the pace and run the last uphill towards the finish line.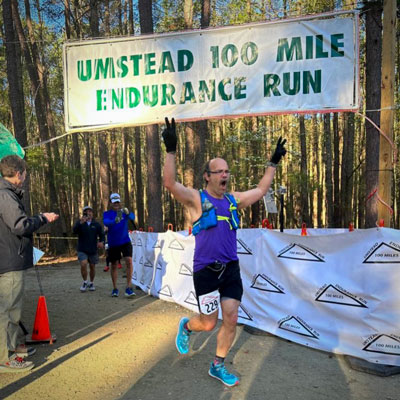 Although my slowest 100 so far, I have no regrets. There was a plan in place that I followed that was dependent on weather changes that did not materialize. That is the way it is sometimes the way things go. Very happy with the outcome, as the adjusted hydration and fuel plan worked very nicely. I was able to quickly identify and address issues as they came to minimize impact and risk, which also worked great.
Lastly, I want to congratulate all the runners; just showing up and starting it is an accomplishment in itself. Many first 100 milers, Eric, Hanna, Jeremy, Tarek, Venu, and Kaleel, did FANTASTIC. Jamie did phenomenally and completed his personal best 100k distance, all that after suffering an injury (I promise you I did not trip him during that run couple of months back) and sickness during the later parts of the training blocks. Rebecca fought back and hard, after challenging few weeks of training and she was able to complete her 50 miler. Congratulations to all!
Thank you to all the friends, runners, support group, and family that were always ready to support and encourage me, not only during the event but also during the long training season. To my wife, who did fantastic at the North Carolina SCY Masters Championships, winning 1st place in many of her events over the weekend, thank you for your patience with me over the logistics and training season. And my daughter Bianqui, has always been my greatest cheerleader and supporter. I always will remember running at Knoxville during torrential rain!! Love you both!
---
.
| | | | | |
| --- | --- | --- | --- | --- |
| Month/Year | Event | Location | Type | Time |
| Apr-23 | Umstead 100 | NC | Ultra | 26:20:40 |
Highlights:
Course: 8x 12.5-mile loop. Great ample trails, not technical, but lots of ups and downs. One long mile hill between miles 4 and 5. Excellent for 100 first-timers, highly recommended.
Venue: At Start/finish, excellent variety and availability of food, plenty to drink, and amazing volunteers. You would not go more than 4.5 miles without hitting an aid station.
Expo: N/A
Weather: Warm weather with clouds at the start followed by overcast skies, great 65º-78º-54º with just over 86% humidity, but it felt higher at times.
T1D: Sugars remained great during the event. Learning from past experiences helped me adjust and improve this year's fueling plan..
Fueling:
Pre-Race: 1 serving of Hot Cereal and Latte. Half of the banana about 20 minutes before starting.
Race: Mix fuels from liquid calories to solid foods. I might try burgers next year, we will see.
Post: FOOD!!!!!
Learning Points:
Running slowly and with low effort is key during the warm portion of the event. That worked well.
Maybe try ice over my head and neck next time it is warm.
Your crew/pacer makes a huge difference.
Not everything is going to go right or perfectly. I just need to continue to improve and learn to minimize the impact and adjust.
Do not forget the sunscreen.
Having fun, is one key element for a great Ultra.