So I have been running at home on a treadmill for a few months. Slowly ramping up the miles. Even before moving to North Carolina, I started running in the garage. I knew I was able to run for about an hour or so without stopping while watching my favorite TV shows. But I knew that running in a treadmill is not the same as street running. Also running by myself is not the same a running with other and not the same as running in a race. The closest I got to be able to complete in an true running event was two weeks before my first event when I got my eye accident and force to stop running for abut a month or so. After that, only during the private school track and field during the once a year field day. So, I had some unfinished business. I needed something, maybe something to prove to myself that I could do it. I could finish a official running event.
I remember working in the early morning and getting the usual Gym news in the email. Normally I do not pay much attention but this time I took a close look and there was an announcement about my company sponsoring a race event, 5k for one of the charities we support. In the website there was there was a copy of the 5K certificate from the USATF, making it official. I called my wife and told her that I was going to sign up for it and she said go for it. This was going to be my 1st running event ever.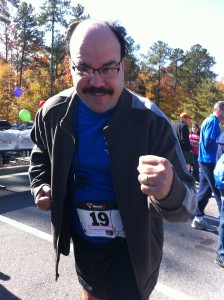 I signup at Cisco Gym to train for the group C25K program which included the event fees. A great deal and a least I will be able to meet other people that are starting this running thing. Since I already ran a little bit they put me in the group with "experienced runners" Ha!, I guess the few miles I ran made me a runner already. That first time we went as a group for a practice run was miserable. Two other runners showed up and as soon as we started I make my 1st running mistake. Not knowing these two guys I tried to match their pace and keep up with them, huge mistake. Not even a mile or so away I started to suffer at the turn around they were already about half mile ahead of me. I had to walk some and then some more. Very discouraging.
There was another slower group but they just started to train and most also starting to run for some extended time or distance. So in their plan they had lots of walking during the first weeks and that was not for me. Fortunately, I end up running meeting Karen another co-worker with about same running skills and similar pace. So, we basically formed a mid level group for this C25K. We met on Wednesdays after work and went out to do at least close to 3 mile run as possible. There were markers in the running path to help the C25K participants. Some weeks were good and others were ok. She was doing really good, we talked about running, our families and our reasons to complete this event. I was glad to be able to find someone in the same situation and around same running state. It was encouraging and made the runs and the training more acceptable and enjoyable.
The C25K plan had some weird workouts (at least to me it was weird, since I was not used to train much for running) My time goals for this event was to finish within the 30 minutes mark. Slightly shy of the 10 minute/mile pace. Only knowing my end time at the end of the training runs not sure how was my pace, other than I was close but not there yet. I really want it to beat 30min.
The day of the event, my wife and daughter were there with me to provide support. I am very glad to have them there with me and able to share this experience. I was very nervous, the not knowing or the what to do or not do. I watch as other runners were getting ready, some stretching, some drinking water, some sitting or just standing, some jogging in place and other jogging around. I did not know what to do, but I guess that was ok.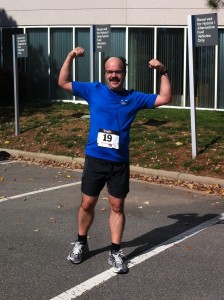 Lost of people and their families in the event. Since I was still relative new at Cisco, very few familiar faces, but even those I cannot remember their names. I met Karen at the start of the race and wished her good luck. The race started on time and since I ran couple practice run using the same route at least I knew what to expect. First mile was really good, going fast but still feeling good. Mile two also was really good, felt like I slowed down a bit but going well. About 2.8 miles in got a huge pain on right calf and it basically bring me to a halt. It was like I was hit with a bat. I started to walk some and when I tried to start jogging but had to go back walk some more again. Karen saw me, slowed down a bit and while passing by she asked if I was ok. She jog slowly next to me for a few steps and encourage me to start jogging. I did start again to run even with the pain. Glad that she talked to me into getting back running. It felt awesome to finish even when was unable to beat my time goal.
Event Highlight & Learning Points
Highlights:
Course:      It has some hills through out the whole route.
Weather:   Clear skies & cold
T1D:           Not paying much attention at this time
Learning Points:
It's never too late to start exercising.
Everybody is different and their pace is their pace not yours.
In your 1st event, it is ok to be nervous. Others are too.
C25K is a great way to start with a plan.
Goals are important, having multiple is better.
There is more than just putting one foot in front the other.
| | | | | |
| --- | --- | --- | --- | --- |
| Month/Year | Event | Location | Type | Time |
| Oct-11 | Cisco 5k | NC | 5k | 33:45 |