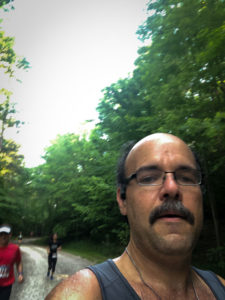 Last year I had the opportunity to volunteer and pace the 2:10 group. I got a little bit crazy again and even after running 8 loops of the same route last month I volunteered again to pace. I had so much fun pacing the last year that I want it to perhaps help again. I am comfortably able to run the 2:10 group, but since it was going to be warm I decided to go for the 2:20. Since Umstead Park is a compilation of never-ending hills, I went for a test run last weekend to make sure I could hold the pace. Feeling good even after coming from Umstead 100 last month.
In the morning as usual, similar to what I was doing during training and other events. Sugars were within range and steady, so a small bolus of insulin to cover the oatmeal and coffee. It felt a little bit on the warm side when I went outside, but there was a slight breeze that was making it comfortable. Got to the area with plenty of time to figure out the new location of the Packet Pickup area.
At the event area, I was able to see a few friends, Arvind was getting ready to pace the 1:50 group. Genno paced this event with me last year, but today she was running and not pacing. Other friends that I was able to talk to, Gerald, Jeremy, Kelvin, Laurie, Bill to name a few. It was great to catch up with them and see them at this event.

Miles 1-6: Very uneventful miles. We had a group of 3-5 runners with us. Trying to speed up a bit during the downhills to make a little bit of time to tackle the uphills. Especially after mile marker 5, there is about a mile of uphill. I am used to that segment since I have been training at Umstead for quite some time. But not everyone was familiar with the course. I tried to let me know as much as possible about what was coming up next without ruining the excitement of the event. We talked about previous events, races, pace strategies and many other topics to keep the mind fresh away from the hills. I was taking Gatorade at the water stations since I did not take my energy drink with me this morning. It was great to see a kid perhaps in early teens running with his parents. He was doing a great job tackling the hills.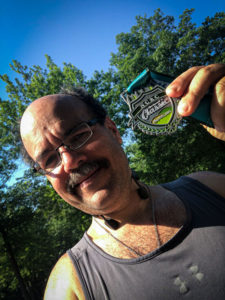 Mile 7-10: We hit the turn around point at 1:10, hitting the midpoint of the event as scheduled. Coming back we accelerated a bit during the downhill, knowing that there were at least three good hills, with one of them proving to be a challenge in this warm weather. The group fluctuated between new runners that joined us and some that slowed down a bit. Feeling good we slowed down a bit during the few uphills and tried to sustain the pace otherwise. Tons of familiar faces, running the event and at the trails. Volunteers were fantastic, seeing all the runners as we approached the turn around was amazing, many familiar faces.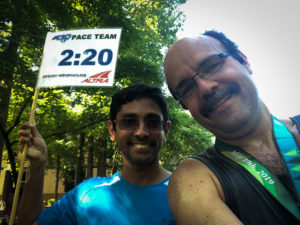 Mile 11-Finish:  At this point in the event, I realized that we slowed down too much during the uphills. Knowing that close to the finish line there is one last challenging hill, I told the group that we needed to pick up the pace a bit during the next section of 2 miles rolling downhills. Some were able to stay with us, some fell behind a bit. We gained some time and had enough in the tank to tackle the last hill. While going up the last section of the hill we caught up with a small group of runners, once they realized that we were the 2:20 pacer group, they dug deep and pressed their pace determined to stay ahead and finish well below the 2:20 mark. It was awesome to see them and our group accomplish their goals.
With a 2:19:34 finish time and 2:20:03 gun time I hope all runners had as much fun as I did during this event. The volunteers were exceptional at all points of the event.
| | | | | |
| --- | --- | --- | --- | --- |
| Month/Year | Event | Location | Type | Time |
| May-19 | NCRC Classic Umstead | NC | Half | 2:19:36 |
Highlights:
Course: Out and back course. Basically no sharp turn with the exception of the turnaround. Ample road at the start, narrowing a bit at the entrance of the trail but not an issue since it is about 2 miles into the event. It is a very, very hilly event, with at least 4 challenging hills. Two of those long uphills
Venue: At the finish, plenty to drink and snacks. Parking was about 1/2 – 3/4 mile away due to some construction this year.
Expo: No Expo.
Weather: Overcast skies, great 71º-76º with over 69% humidity.
T1D: Sugars were good at the start, SmartGuard worked perfectly.
Fueling:
Pre-Race: 1 serving Hot Cereal and Latte.
Race: Water and Gatorade at the water station. Well stocked with plenty to drink and well-spread stations.
Post: Orange and water.
Learning Points:
Running in warm weather can make it challenging even at a slow pace.

Only Gatorade to keep sugars at good levels seems to work at this pace.

Pacing an event continues to be a lot of fun.