So, this was my 3rd 50k and coming from finishing my 1st 100 miler race earlier this year I was feeling confident about being able to complete this event. The Goldrush 50k held at Uwharrie National park area with an un-relented course of constant ups and downs, mixed in with rocks, roots, creek crossings, loose rocks and very minimal flat sections that will make you reconsider your choices for adventure. With names like Sasquash Hill, Soul Crusher Hill, and Hallucination Hill, it is definitely going to provide you with an excellent challenge to prove yourself. The event is on the same day as the Uwharrie 100 and 100K events, making it optimal to see many runners and enjoy the experience.

The morning routine was the same as per many other events, but today for some reason I forgot to do my bolus adjustment for breakfast and my sugars were high and trending higher while I was driving to the start of the event. I did an adjustment hoping they will get back to normal at least during the 1st few files of the event.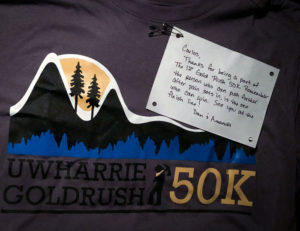 Got to the starting event area with plenty of time to relax and last preparation activities. I used the portapotty one more time and set my pump auto mode in temp mode for 8 hours. This will have my pump adjust basal rate target 150 instead of the 90 average glucose reading. I grabbed my bib and goodies bag, and as I was getting ready to put my bib on, I realized that there was a message printed on the back of the bib. That was a nice detail from Dan and Amanda regarding the event and wishing runners good luck. Very nice detail!

Miles 1-6 – Easy start, quickly found myself with a group of runners that were holding a decent pace. Running the downhills and the short flats and walking the uphills. They were all having a good conversation, making sure that we did not press too hard during the early stages of the event since we knew it was going to be a long day. A pace hovering around 13:30 average pace, still a little bit faster than my past three training runs at Uwharrie, but it felt comfortable, perhaps due to the great weather we were getting at the start of the race. I continued to hang with the group all the way to the 1st Aid station.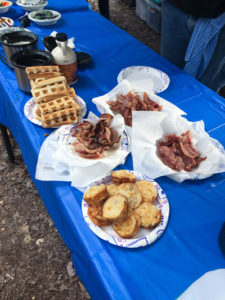 1st Aid Station stop – Holy Tamales! As you approach the aid station, about 100 meters, you could see a whiteboard welcoming you to the aid station. If you looked closely you were able to see the main menu. Yes, a menu! Similar to when you enter a restaurant or dinner that instructs you to either wait to be seated or find a seat. There jotted down you will see the specials for the day. I knew then that I had to try a few things. I know, I know, "Don't try anything new at race day" that includes your fuel plan. But how could I miss this opportunity? All sounded and smelled delicious and awesome. I was not going to have another unique opportunity like this one anytime soon. There were waffles with syrup and bourbon syrup, some special muffins, oh my! Of course, there were tons of great other normal and usual items like bananas, candy, cookies and many types to drink. I tried to play it safe and went for the waffle with bourbon syrup and some bacon. It was amazing!
Miles 7-11 – I headed down back to the start line to finish the lower loop. I kept a decent pace for the downhills and definitely walked all the uphills. This section has a few challenging hills, but there was a semi-long hill, which at the start looks like an ok hill, until halfway the distance it becomes more challenging. As you cross that midpoint you could see the sign warning you that you are about to go through Allucination Hill. I powered through the hill with some effort, but it was not as bad as I thought it was going to be. Compared to my training runs it felt ok, perhaps since it was still very early in the event. A few more hills, some additional decorative items as you were approaching the Start/Finish line aid station letting you know that you were very close. At this time my pace stayed consistency around 14:00 minute mile.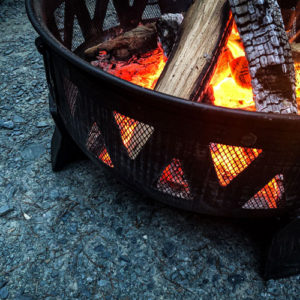 2nd Aid Station stop – Another well-stocked station, there was plenty to eat and drink. As I arrive I saw Scott preparing some delicious veggie wraps for the runners, more bacon and goodies. I opted again for more bacon since the food at the last aid station settled well during the run and for some reason, bacon sounded good.
Miles 12-17 – This was the second time going over these parts of the course. After taking advantage of the 1st somewhat flat mile, I slowed down and took my time during the uphill. I notice that I started to get a hot spot on the bottom of my left foot. At the end of one of the hills, around mile 16, I stopped and tied my shoe better, to minimize the friction created from my foot sliding inside. Since there was so much of going up and down and I did not want it to get a blister too early in the event I decided to address it early. This was on the learnings during my preparation runs for the 100-mile event earlier this year. Tackle the issues quickly as they come and adjust. I still had many miles to go. That worked, and after a few miles, I noticed less sliding and no hot spots due to the friction. Sugars were within range but trending slightly down, I took a gel even though I have been fueling with my energy drink. This I did to keep my reading within a healthy range.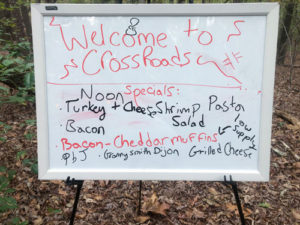 3rd Aid Station stop – I am back to the crossroad aid station, stopped again to admire the whiteboard and to my surprise, they have already switched to a lunch menu option. What?!!!! lunch menu? Shrimp Pasta, more bacon cheddar muffins, Granny Smith Dijon Grilled Cheese Sandwiches, how can I not try some of that?!!! I opted for a cheese turkey and chili paste sandwich, it was delicious. I also tried the steak on a stick, with the same delicious results, it was amazing. My friend Vasu was there taking pictures of the event and runners. I replenished my energy drink and off I went. All that food settled well with no problem.
Miles 18-20 – This next section had two of the most challenging climbs of the event. 1st was Sasquash Hill, an insane incline over boulders and rocks. It is a short hill, but steep enough that will slow your pace to snail pace. You definitely feel very accomplished after reaching the crest of the hill. Just enough time to take a breather and keep going. There were lots of hikers, boys scouts, and youth groups in the different camping areas. They were cheering for the runners and providing words of encouragement. Soul Crusher Hill was next, long switchback hill that you have to take very seriously. I tackle it with patience, stopping twice to take a breath. I checked my sugars just in case and they were good and within range. I was a little bit disappointed since during the two training run sessions I was able to steadily hiked the hill without stopping. I guess I was starting to feel tired. As I was approaching the last mile towards the next Kelly's Kitchen aid station, I tripped and feel down. I was very fortunate that is was not in a rocky or hard surface area. I was able to roll into the fall and minimize the impact. With my ego slightly bruised I stood up and continued toward the aid station.
4th Aid Station stop – Similar to the Cross Roads aid station this station, Kelly's Kitchen aid station did not disappoint. The volunteers were fantastic, they re-filled my energy drink bottle and my hydration vest with water while I was getting something to eat. There was so much good food, I went for oranges wedges and a half of a Bacon Cheese Quesadilla that was spot on. It was great to see the volunteers and the family members of other runners, especially the 100 miles runners.
Miles 21-26 – Left the aid station energized and powered by quesadillas. I felt good, just tired. The course back to the crossroad aid station is not bad. Just relentless ups and downs that made it impossible to find a good running zone. By this time my pace was slowing down considerably. I felt just a little bit lightheaded, so I checked my CGMS and sugar were within range but hovering on the lower side. I took another gel to make sure they stay within range. Although the plan was to walk the uphills, I found myself walking some of the gentle inclines and stopping a couple of times to catch my breath. Still, I was really enjoying the event and the trail.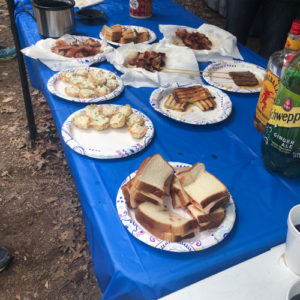 5th Aid Station stop – The lunch menu was still being served. This was good because I decided to try the Granny Smith Dijon Grilled Cheese sandwich that I could not try at my previous stop. The sound of it might not be too appetizing but since I heard that it was surprisingly good during one of the training runs when I got the opportunity to talk with Vinny Swendsen the aid station captain. I did not want it to miss that opportunity. It did not disappoint, the combination of the cheese, apple and mustard created a weird (in a good way) flavor. I would have loved to try more things but I needed to keep going to finish the race. It was taking me too long already and I knew my pace was not going to improve since I was already feeling very tired.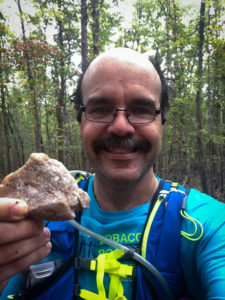 Miles 27 to Finish – These last few miles were a good challenge. I was trying to power through the uphills with somewhat success. Definitely faster than miles 21-26, but still basically averaging around 16:30 per mile. I found myself tackling Hallucination Hill pretty decently, not at a great hiking pace but made good progress. I was able to see a few rocks on the ground (Actually there are plenty of rocks on the ground) and decided to send a picture to my wife with one of them. She loves to paint and recently she has been painting on different surfaces, like rocks. I call my rock, little Uwharrie Pet Rock. A group of runners caught up with me and as they passed me I decided to hang with them. We talked for a few miles, which got my mind away from the race and in training run mode state. As we were getting close to the finish line with about less than a half-mile to go I found extra energy to power walk the last challenging uphill pass the group and increase my pace to finish strong and with a smile.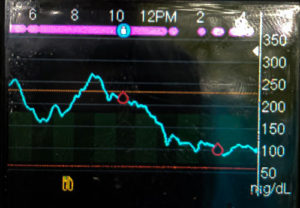 I was happy to see that sugars held pretty well throughout the event. With only the miss bolus for breakfast prior to the event and the two times, I took the gels as a precautionary action. I am pleased with the sugar performance and that it was not a limiting factor to complete this event.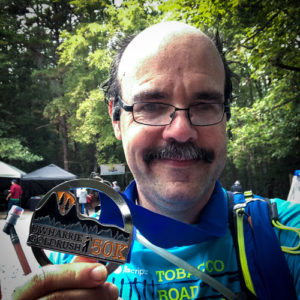 The event was awesome, the volunteers were fantastic at every stop across the route. Dan and Amanda did an outstanding job as race directors and putting together a really good experience for the runner. I do have to say that this was a very challenging course and race. I can't see my self doing the Uwharrie 100K and even less the 100 Miles events in the near future. But who knows, I keep wondering what the dinning menu looks like and if I would just do one of those two events to enjoy an excellent culinary experience at the Cross Roads UltraAid Station Restaurant. Bon Apettite!
Month/Year

Event

Location

Type

Time

Oct-

19

Gold Rush 50k

NC

Ultra

8:39:26