This was an amazing marathon experience.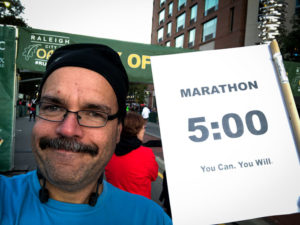 This year like two years ago, the Expo was a little bit disappointing. In 2017 the venue was huge, but no many vendors, this year smaller venue and felt even fewer vendors. Never the less it was well organized and it was great to talk to other runners and see familiar faces. Since I was pacing the 5:00 group this year, I spend a little extra time to allow runners to ask questions and ease their prerace nervousness.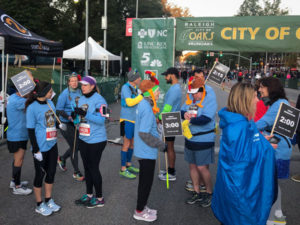 In the morning the usual breakfast and preparations. Sugars were good and within range when I ate, but by the time I got the event area they were hovering a tab on the high side. I was not that worry about it since my pace was going to be a constant pace and I have run that time or faster in many other races. Nevertheless, I needed to keep an eye to make sure it does not get out of hand. I forgo eating the banana since the sugars were on the upper side 30 minutes prior to the event.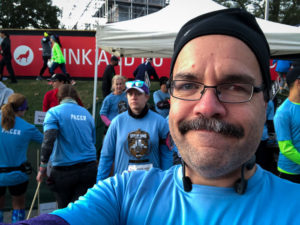 At the venue, I was going to run the 1st portion of the event with Kazem, the race director for Tobacco Road Marathon and the original founder of the City of Oak Marathon. I was happy to get the opportunity to run side by side and talk to him and the runners. In the second portion of the event, David was going to join me until the finish. David another veteran runner, also on the board of director for Tobacco Road Marathon, with great stories and energy. I was lucky to have them join me during pacing the marathon.
After a quick stop to get ready, we positioned between the 4:45 and 5:30 pacers. We talked to a few of the runners, listened to the National Anthem and off we went right on time.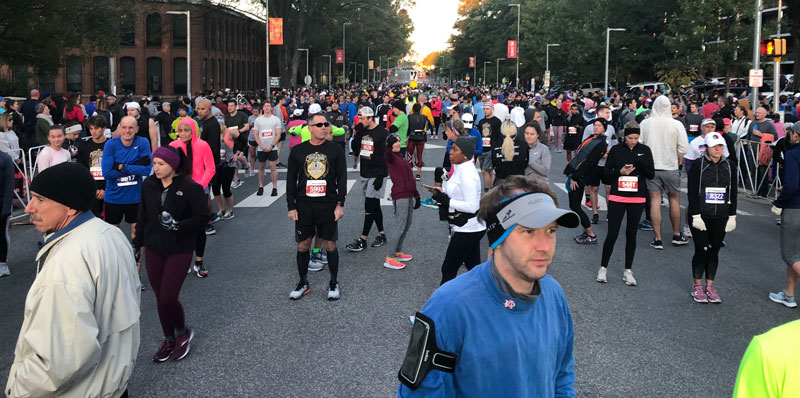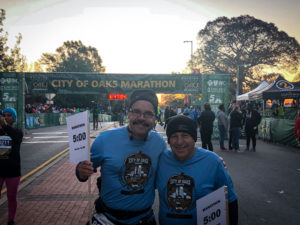 Mile 1-6: The Full, Half and 10k started at the same time. It might sound like a crowded event but with the multi-lane road, it was very wide with enough room to handle all the runners throughout the event. We were averaging around 11:10 pace, which was a little bit faster than the target 11:26 pace. In all, we were slowing down for the water stations and I want it to bank a little bit of time to handle the challenging uphills from mile 22 to 24. Sugars started to go down to an acceptable level around mile 5 but I kept grabbing energy drink at the water stations.
Mile 7-12: It was so great to talk to the runners and hear their stories. For some it was their first marathon, for others they were crossing NC from the States bucket list. Some veterans were sharing their battle stories. For the most part, we were mostly Hall and Full participants. Kazem talked to the runners about his experiences during his many races and being the director of the Tobacco Road Marathon. It seemed that he knew everyone, tons of spectators, other volunteers and runners. It was awesome. We continue to hold the pace around 11:13 by this time, we kept with the 2:30 Half Marathon pacers and between us 4 pacers, we had a very nice group area with many runners. Sugars were doing great, although trending down a bit, I kept drinking the energy drink at the stations and decided around mile 12 to take an energy gel to make sure they stay within target. At this time I think I had a couple of servings of energy drink, plus one gel, E-Gel without any bolus adjustments.
Mile 13-21: Kazem went ahead and continued with the half marathoners, gave me his pacing flag and I went to meet with David. With David's fresh legs and this section mostly downhill, we kept the pace close to 11:10, a little bit faster than we want it, but we talked about it and we were concern about the uphills on the way back very late in the event. At this time we only had Full Marathon runners with us. David shared tons of great stories and so did the runners in our group. Everyone was happy and cheering for others. We got the opportunity to see the leads passed by and they looked strong and holding a great fast pace. No issues at this time, we continue to slow down at the stations, we slowly jog some and other we walked. It was a beautiful day, great temperatures. By this time I removed my hat and put it away. The fresh cool air was awesome. Most of the runners for the full that started with us they were still holding steady. It was great to talk to them and see them holding on the pace.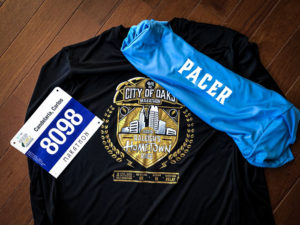 Mile 22-26.2: The dreaded hills are upon us at this time. We slowed the pace a bit, but I was very amazed at how I was feeling at this time. You see in the past, I have always had to walk these hills. They were too much for me at this stage of the event. Not today, I think it was that we were holding a good conversational pace for us that only by slowing down a bit we were able to slow jog the entire 2 miles of uphills. One of the runners from Oregon was targeting finishing around 4:50:00 mark and thought he was going to be able to press the pace during the last few miles to accomplish it. He was a veteran with multiple marathons finishes during this year, it was impressive to hear his stories and how well he was doing, considering that the day before he had finished another marathon in South Carolina. David and I decided to stick with him during the uphill to help him out and let him go at the mile 24-mile marker. At mile 24, we realized we had plenty of time, the hills did not slow us down as we thought. So even with the relatively flat section of the last 2.2 miles, we slowed down and walked some to encourage other runners that were ahead of us to keep going and finish strong, while helping many others that were coming behind us and needed that extra push. At this time we were high fiving each one of those runners, as long as they passed us they were going to finish under 5:00. It was awesome!!!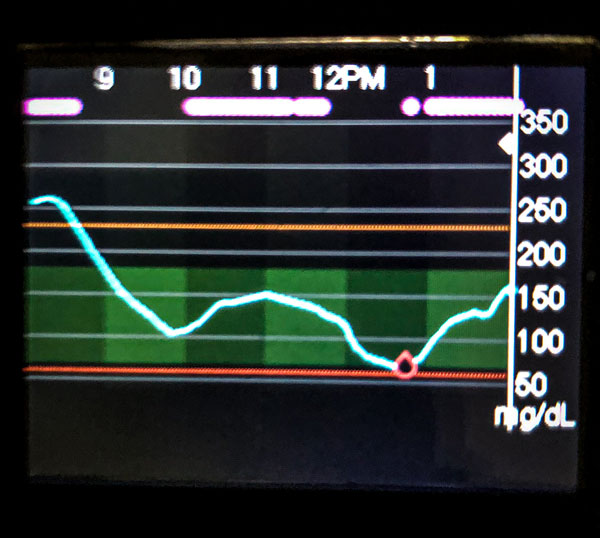 I finished with a great smile. David and I waited past the finish line for a bit, to welcome the few runners, that although they were unable to finish ahead of the 5-hour mark, it was a great accomplishment for them.
I learned a lot during the conversations at the events and I believe I will still need to adjust or approach my slightly training different if I want to improve my overall times. Another great experience, Skinny Turkey here we go.
Month/Year

Event

Location

Type

Time

Nov-19

City of Oaks

NC

Full

5

:00:16
Event Highlight: 
Course: Great start/finish area. Great ample road right of the start. The water stations were well stocked and the distance between them was pretty good. Very scenic but very hilly, especially coming back from mile 20.
Venue: Great music and plenty of food.
Expo: So so Expo, compare to a few years ago, although very well organized there were not that many vendors.
Weather: Overcast, 38º with 73% humidity at the start.
T1D: Remained stable during the event, just a tad on the high side.
Fueling:
Pre-Race: 1 serving Hot Cereal, Latte, and banana.
Race: Crank Sport E-Fuel, Energy drink at the stations, and one gel.
Post: Tons of water, protein shake, and snacks.
Learning Points:
Pacing remains one of my best running volunteering options.

Seeing other acomplish goals and finish long event is another Priceless experience.