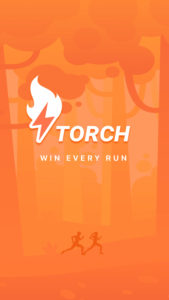 I love to try mobile fitness running apps and other tools that can help me move out from the monotony of running or learn new ways to tackle health, workouts, and learn concepts about running. Late last year I had the opportunity to try out a new running game app, Torch: Running Game. The LifeBEAM makers of Vi, one of my favorite Mobile Apps and wireless set combo for running, came out with an app that allows runners to virtually compete with each other. Sounded a little bit like another virtual run event, but with just one other person in which you get to hear whether or not they are ahead on behind you. Since I have used the Vi app for quite some time I was curious about the aspect of competing virtually with other runners and how the pair system will work. Here I tried to write down a few of my first impressions.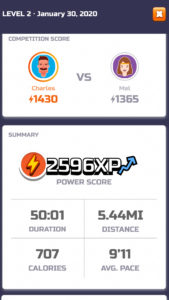 1st impressions: Simple navigation, once setup it is basically hit ready to run and the app does the rest. After the 1st couple runs the app has an initial understanding of your levels of performance. It takes your age and performance in consideration to pair you with someone that it seems that will be close to the same levels of performance.  Pretty simple and you get right into the competition.

Once you start using the app for your runs there are couple main things to consider, one is that every run is not the same, the type of workout is going to vary and the second one is that you need to keep in mind that to be able to level up and perhaps get more challenging opponents you need to meet the criteria for each level. There are two criteria considered to level up, first is of course to win races/runs and the second is the power level/points. The power points/score are points that you start gaining based on the time/distance you cover while using the app. Once you meet the level requirement you level up and are able to compete with individuals those levels.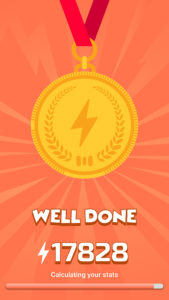 Keep in mind that the first couple levels you get runners that might be only exploring the app and have done the setup and a few runs with the app. After that, they might not continue running. After a while, with additional levels, you start getting runners that have used the app on a more continuous basis and their level of performance is higher.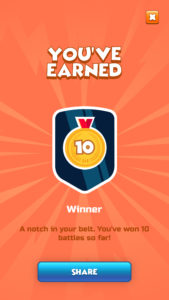 Once you start a run, there is a warm-up period, the easy run portion where you get information about the run the type of workout, the app also will announce who you will be competing against and a little bit of their record or streaks. The type of workout varies and you never know what kind is going to be. Sometimes is an easy, mid-run with a final fast finish or a mid effort run, or a ladder sprint session. You do not know how is it going to be until the run starts. Depending on how the other runner has run his/her run the app will provide you with feedback on how close the competition is, whether you are ahead or behind in points. This gets really intense as you get closer to the end of the run, especially if you are neck on neck with your opponent because you will really have to push if you want to secure the win.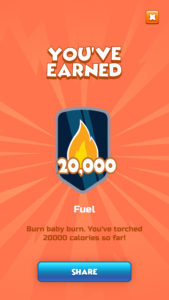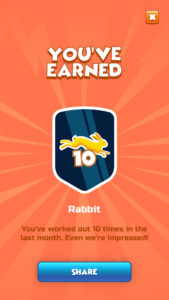 In all, it is a fun experience, especially at the later levels. The music is really good and helps you keep the intensity of the run going. Every time you move up a level, it provides some stats comparing your performance with other runners that finished that level. I think I am up to level 8-9 by the time I started to write this short summary.
There are also a couple of additional achievements that are available to you to pursue, winning streaks, calories burns, power scores, and others. All of those you can share on your social media streams since those are your bragging badges to showcase and taunt your friends with.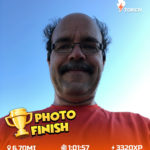 In addition after your runs, you can also take a picture and add a few stats and icons to celebrate and share.
One quick nice thing is that even if you finish the competition part of the run you can continue running listening to the music and accumulating power/score points along the way that counts for reaching and leveling up.
I do not use the app on a constant basis. But I do use it when I can to have a quick fun run. Given that it is not based on a pre populated plan or running training programs it becomes challenging to use it as preparation for a race or event. Still, I will still have it as part of my repertoire of the app on my phone to go to once in a while.