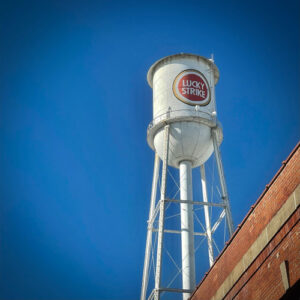 Today I completed The Bull City Food Fest Half Marathon. Although my whole intention was to run an easy race today, the weather was so perfect that I started to push the pace and while keeping g an eye on my heart race. I have to admit that it was so much fun to run today, even after running 14 miles at Umstead.
For morning routine the same as in plenty of other events, hot cereal with almond butter, coffee, water, and a banana about 30-40 minutes prior to the start of the event.
One thing that I have not been doing in the last few events, was to do warm-up and cool-down runs. It is normally about an easy 1-mile jog, that for the warm-up might include a couple of pace strides to get the legs a chance to get loose prior to the start of the event. I remember in the past how helpful those warm-ups were to make those 1st few miles easier to find the event pace.
It was great to see many of the friends that we normally see each other passing by during the training runs. Met with other fellow runners where we discussed some of the strategies they were going to use to tackle the course. Since I knew from previous conversations that this event was a little bit hilly I want to get ideas and learn from others that have completed the event and how should I tackle it.
Miles 1-3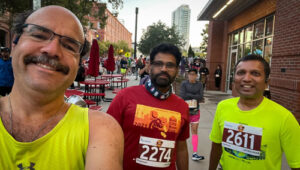 As I started way in the back Jay and I make our way to the starting matt. It took a few minutes to the starts line but it was ok. After that, it was a slow pace to get used to running. Even after warming up, my legs were just feeling ok. After zigzagging a bit for the next couple of miles, I was able to find a good decent running pace to sustain. I knew that the course was going to be hilly, but I did not check any of the elevation changes charts. Since I started way in the back I was able to start passing runners in a constant way.
Miles 4-7
Now I am feeling like I warmed up well. Temperatures were fantastic even tho the sun was out. At the water stations, I decided to grab Gatorade given that I did not carry any extra fluids with me this time. Many rolling hills, but it is a constant change of pace due to the ups and downs. At every uphill, I started to give many thanks to all the Umstead training runs that prepared me to be able to tackle this course. Energy-wise I was feeling good and decided to take a gel around mile 6. I took my time finishing it which normally is not the case, but with the hills and pushing the pace I was trying to find a good segment to enjoy the gel. I am still passing many runners but not that many as in the first few miles. But more strong during the uphills.
Miles 8-11
Now by this time heart rate has been fluctuating between my orange and red zones. In the past few miles, I was tackling the hills either at the same pace or increasing the cadence. But by now even though the legs are just a bit tire, I knew that I needed to slow just a tad if I want it to keep a good pace coming into the final files of the event.
Miles 12-Finish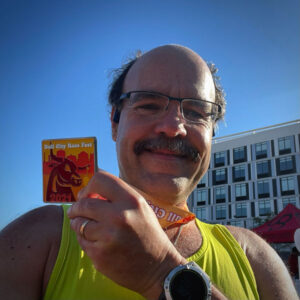 This last few miles are mostly downhill. I took advantage and pressed the pace a bit more. There was another runner that was just a few steps behind. I smiled as she was getting close to me and told her we are almost there. Between her heavy breathing, she started to laugh a bit and kept holding next to me until about 1/4 mi.15 from the finish line. S We both picked up the pace and as she was barely passing me I shouted to her go get it, the finish is yours to take. It was great seeing her pressing the pace and passing a couple of other runners to finish strong.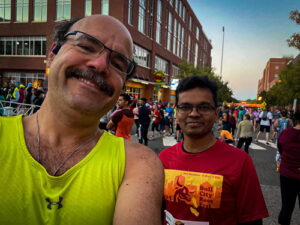 At the finish area, I was able to catch up with a few other friends, get some water, and exchange a few of the learnings and experiences from the event. After a few minutes, I headed out to do a cool-down. Easy 1-mile job to make sure that I kickstart a really good recovery.
That similar to the warm-up, I used to be better at events with the warm-up and cool-down. I think this is one of the details that has always helped me in my recovery. In addition of course to the protein shake with the multi-vitamin. Now to concentrate on m training for my next events.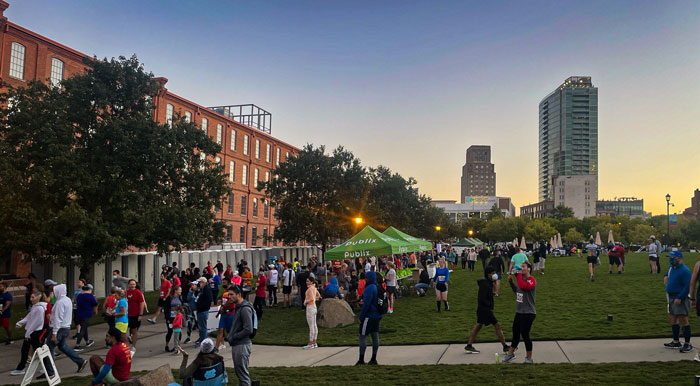 Highlights:
Course: Great ample road right of the start. Great scenery as you basically stroll the city streets of Durham. There are hills, some rolling others just a tad steep. You will need to constantly manage your pace and effort as you do not want to run out of steam in the later parts of the event because you tackled the hill too aggressively.
Venue: At the finish, was good, simple but effective. A few vendors and food trucks. I think in a non-Covid time it would probably have more things and music.
Expo: No Expo due to COVID restrictions.
Weather: Perfect weather with very few clouds all the way until the finish. A great 47º with just 85% humidity.
T1D: Sugars were good at the start, and held pretty well in range throughout the event.
Fueling:
Pre-Race: 1 serving Hot Cereal and Latte. A banana about 35 minutes before start.
Race: E-Gel at mile 6 and Gatorade at aid stations.

Post: Protein shake and lots of water.

Learning Points:
Running a conservative 1st couple miles allowed me to run at higher pace in the later parts of the event..

Training at Umstead on a frequent basis helped big time in being able to tackle the hills with confidence and strength.
| | | | | |
| --- | --- | --- | --- | --- |
| Month/Year | Event | Location | Type | Time |
| Oct-21 | Bull City Half | NC | Half | 1:57:45 |