Happy Thanksgiving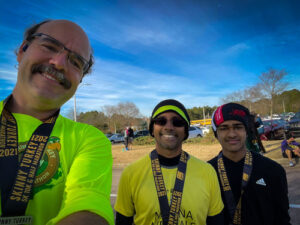 I completed my seventh Skinny Turkey Half Marathon. This year I am running as a final prep run for the Derby 50k on Saturday. For my sugars, the levels of my CGMS we not that good this morning. The CGMS was not providing an accurate reading as the calibration check I did earlier in the morning was way higher than the reading I was getting from the CGMS. But since this was going to be a half marathon, a distance and route that I am very familiar with I were not too concerned. This morning the usual latte with hot cereal and banana. I like this event location, it has plenty of bathrooms and areas to stretch, sit down and relax. There I met with few a friends from RTR (Raleigh Trail Runners club), Dieter, and Chuck. Also talked with BD and Laurie both were going to pace the event. I was able to meet with Luis who was doing the 10k this year. Later at the start line, I also encounter, Arvind, Kaleel, Genno, Balaji, and many others.
No warm-up today, since my goal today was to help to pace. Since on Saturday, I am running Derby 50k for the fifth time, I just want to run by effort. I walked just behind the 2:30 pacers, after a few announcements, the National Anthem, and off we went, compare to previous Skinny's this time we had just around 200, 100 fewer runners.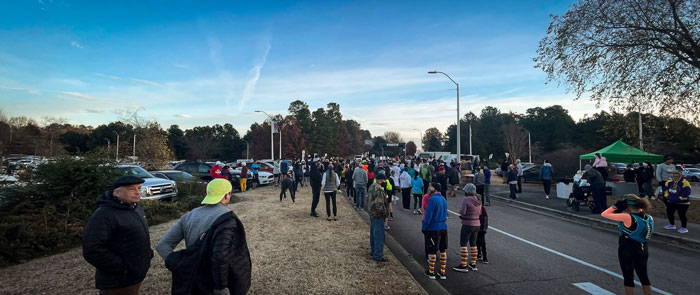 Mile 1-6: Very uneventful miles, the temperature was awesome, sunny, and a very slight breeze. I started close to the 2:30 pacers with the intention of working my way to the 2:15 and if feeling ok, push to the 2:00 pacer. Since the sun was out, by mile 3, I removed the neck gaiter I was wearing at the start, followed by the gloves by mile 6. The course was similar to previous years with tons of up and down hills but I was running at a steady pace and by effort. Since the route is a very nice wide road, it was easy to navigate around runners. The 5k group joined us around mile 4. There was a young runner that tripped and landed hard on the ground a few meters ahead of me. By the time I got close other runners helped her to get back up. Other than her ego and perhaps some embarrassment, she started to pick up the pace once again.
Miles 7-12: The hills continued, but we were all feeling great. I grabbed either some water or Gatorade at almost each aid station. During these miles we were running with the 10k group, around mile 8 I saw Luis coming back on his way to the finish running strong. It was also great seeing other runners and friends. I tried to shout out and cheer for them, especially those for who I knew their names from our previous running adventures. Some doing great, some struggling just a bit. This course has many hills, the elevation gain might not be that much but the constant up and down, similar to the Bull City Half can be hard on your legs and efforts.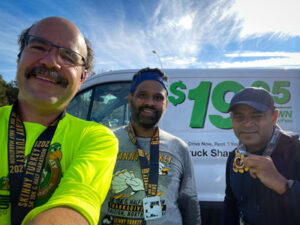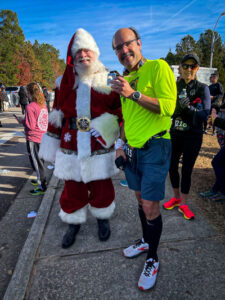 Mile 13 to finish: The final stretch, more ups, and downs, I pressed on as I want it to make sure to finish under the 2:00 mark. The last 150 meters were downhill, as usual, I increased the pace, not as crazy as the City of Oak Marathon but more effort to finish strong.
I hung around at the finish line area for a bit, congratulating those that were finishing a little bit ahead of me and some that came behind. With the finisher's medal in hand, I went to get my traditional picture with Santa. Met with Rob who I have not seen in years and other great runners. Now to recover well and get ready for Derby 50k on Saturday.
| | | | | |
| --- | --- | --- | --- | --- |
| Month/Year | Event | Location | Type | Time |
| Nov-21 | Skinny Turkey | NC | Half | 1:56:28 |
Event Highlights:
Course: Great ample road right of the start but very hilly. Around 350 runners. With the ample road, there is no problem starting, maneuvering around runners, and finding a comfortable pace.
Venue: At a High School, plenty of bathrooms and seating areas to rest before and after the event. At the finish, good food, plenty to drink, and snacks.
Expo: No Expo.
Weather: Overcast skies at the start, then sunny, 35º with 70% humidity.
T1D: CGMS not providing accurate reading this time.
Fueling:
Pre-Race: 1 serving Hot Cereal, latte, and banana 30 minutes prior to start.
Race: Water or Gatorade at aid stations. Caramel GU around mile 8.
Post: Protein Shake within an hour of the event. Great Thanksgiving dinner.
Learning Points:
Getting to run and talk to all the friends and runners. is fantastic.

Once again running by effort it takes being aware of the different cues the body provides.