This is part of a series of posts regarding how I am preparing, planning, and training to complete the 100 miles Ultramarathon Umstead 100: Journey to 100. For all the ultrarunning series, here is Journey to 100 last week's post, and for additional ideas, follow the link. Training for a 100.

This week's focus was on recovery.
Assessment:
Already you have been focusing on increasing your endurance and addressing the few issues that have come along. And even if it feels crazy, recovery weeks are as important as workouts or big mileage weeks. What am I talking about? The recovery will be your workout for the week.
For recovery, there are a few areas to consider, using each element based on all the learnings from previous events, races, and training sessions, including the past few weeks. Recovery is much more than just sitting down, doing "nothing," or taking an additional short nap, and definitely, it is not on the couch for the rest of the day. On the contrary, there is still so much to do during the recovery phase of the training. There is no time to waste.
Recovery starts as soon as the end or even just before the end of your runs: Consider the last quarter or half-mile of your run as a cool down or actually add some cool down. Even if you like to push the last mile of your runs or end on a solid high note, make sure you do a slow jog/walk. This will help to get your heart rate to slow down back to a resting/recovery rate. It will help with getting fluids and clean your muscles out of any of the bi-product from the workout.
What you put in your body is important: What you eat will be key to facilitating better recovery. Going after junk food and not considering the overall nutrient intake as part of your recovery could drastically hamper getting close to peak performance. Consider the ratio of carbs, proteins, and fat and how it's going to benefit, including the quality of those. Research your body type, activity load, and caloric depletion of the recent workouts and include that information into consideration when planning and maneuvering with your food options.
Hydration: The hydration strategy is not just for pre-race/run or during a run. Think about how you felt during the run when you were not well dehydrated and how long it took to come out of it. The same goes for your recovery; if you are dehydrated for most of the day after your workouts and easy runs, your recovery will not be as efficient or as efficient as it could be. Make sure you drink throughout the day, and it might not just be water but look at those electrolytes.
Sleep/Rest: Everyone knows sleep is key and important. You need to plan your sleep time and quality. You also need to prioritize it as well, if not better, than plan your runs.
Mobility for recovery: Mobility is key. If you stay sitting without any movement, you are going to feel like your muscle is going to get tight, and you might have a longer period of soreness after those heavy mileage weeks. The key here is very low exertion effort—a walk and light movement that could include stretching and increased mobility.
It is all about the details: Stick rolling, Foam roller, Percussion gun, warm bath, cold bath, deep tissue massage, massage in general, compression clothing, vitamins, supplements, Tumeric, Tart Cherry, Recovery Roller, Yoga, Stretching session, others. What other things should you consider?
Planning:
Plan ahead what you are going to do during the cooldown: What routine, stretches, and movements are you going to add while your heart rate comes down closer to your resting rate?
Take a look at what you are eating. Not only pre-run or during a run, but also what it is that you are consuming during the day. If you can have some blood tests/lab done, you can research the few key indicators that might help you identify what is not necessarily working out and or deficiencies you might currently have. You might need to add some multivitamin supplements, specific vitamins, iron, or additional electrolytes.
Pay close attention to your caloric intake: During the past weeks, the workouts and mileage increased, and your caloric allowance was higher during those weeks. During recovery, you want to be conscious of replenishing some of those calories back, especially with good-quality calories.
Hydration: Probably by now, you have weighed yourself before runs to gain a baseline of body weight. Most of the delta or difference between the weight after the runs likely is water weight loss. Consider a plan to replenish that delta. It would be around 16oz for every pound, on top of what you usually drink during the day. Keep in mind that you will need to spread out the intake throughout the day.
Sleep: If you can, wake up in the morning without an alarm, you are most likely getting some quality sleep time. Your body will determine the optimal time to wake up based on your needed rest. If you need to set the alarm, try to go to bed a tad earlier; 15, or 30 minutes of gain is better than no minutes at all. Try to increment your start sleep time until you start waking up without the need for an alarm, as your body will help you determine your natural cycle. If you can't, make sure you make it the best rest/sleep time you can get. Research resources that will allow you to get better sleep. Check the following podcast that covers the topic of sleep.
How is the plan going:
This week was a recovery week. Low mileage, easy, fun runs after a last week's big mileage week. One of our group runners training for Umstead switch a few things around, and while some of us are in recovery, he is trying to add higher mileage.
Monday: One easy mile followed by once again some strength training workout at the gym
Tuesday: Easy 4 miles
Wednesday: Morning stretches with some additional Yoga, followed by an afternoon InsaneRunning group run.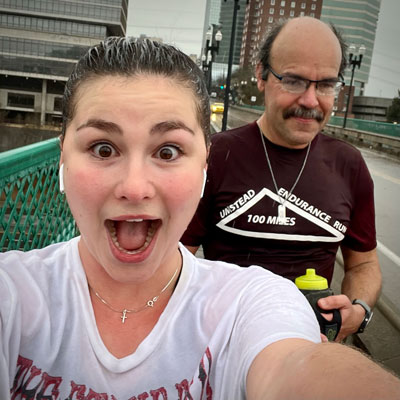 Thursday: Putting some additional easy miles.
Friday: Easy 13 to keep the weekly streak going. I am getting very close to hitting the 400 weeks mark. After that, long drive to Knoxville.
Saturday: Fantastic run with my daughter. What started with a short 3-4 mile tour of Knoxville, quickly turned into a fun run under the rain. There were eight total miles of sightseeing and having great conversations and fun. Then headed out to watch the UTK Basketball game and start fueling with a great pretzel.
Sunday: Rest.
This week's actual numbers:
Next Week Plan: