The Tobacco Road Marathon once again, I am coming back to my 1st Marathon event. It was a perfect day, perfect weather for running (At least for me, it was), and for others, maybe a little bit on the cold side at the start. I double up on short sleeve shirt and very light gloves; for others, a little bit more coverage. Similar to every time I have trained for Umstead 100, this will be my last long run in preparation for the event and also being a taper week. 
Also, this year, I am coming back to help with pacing the 4:50 full marathon. My friend BD was looking for volunteers and took the opportunity to help out and make sure not to press too much the pace given that this is more of a preparation event.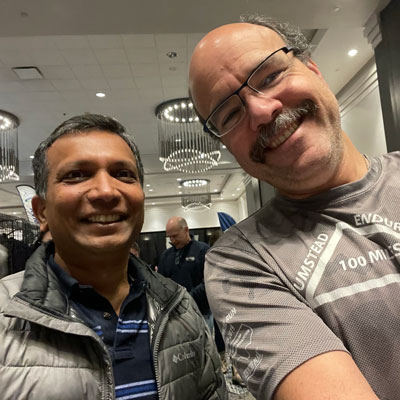 The Expo had more vendors and booths compared to the previous year. Even new product introductions and organizations there promoting their offerings. I came across with Mister Jay, who was also looking for his bib for the event. Great talking to many other friends and runners. I looked at the different booths and picked up the event shirt and socks. I spent some time at the pacer's table talking to other pacers and runners that were having questions.
The morning routine was the same as any long event. No changes to the breakfast and morning prep. I got to the area with enough time, feeling good and excited to see all the runners, and talked to the many that had questions about how the pacing was going to work.
The venue was very nice, and the open area was very nice. I was able to talk to some of the runners and catch up with many friends that were doing the half and full marathon while others were volunteering. For pacers, BD always wants to have a couple of people per time slot. This year I got the opportunity to run with Aaron, another experienced runner, and pacer that came from Massachusetts to pace Tobacco Road Marathon. 
After a few words from BD, the pacer's coordinator, with some advice and instructions and the group picture, we headed out to the main corral, where the runners were gathering to get ready for the start of the event.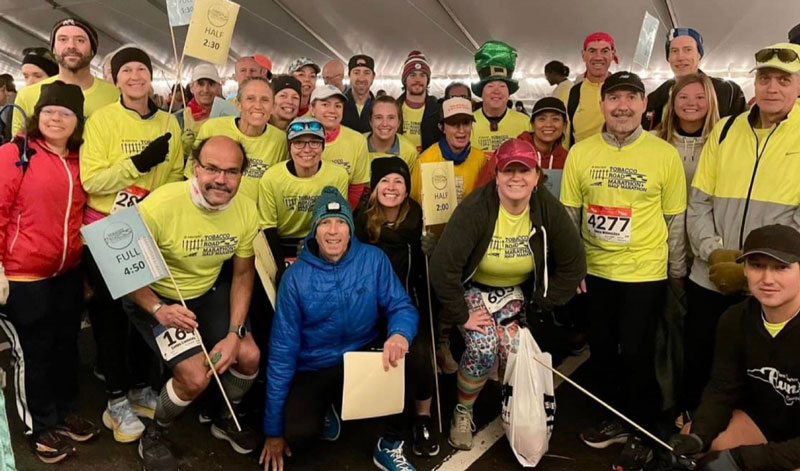 After the National Anthem, they had the Elite Runners and the 1st wave of runners ready to go. With plenty of space and plenty of distance, everyone was very excited to get started.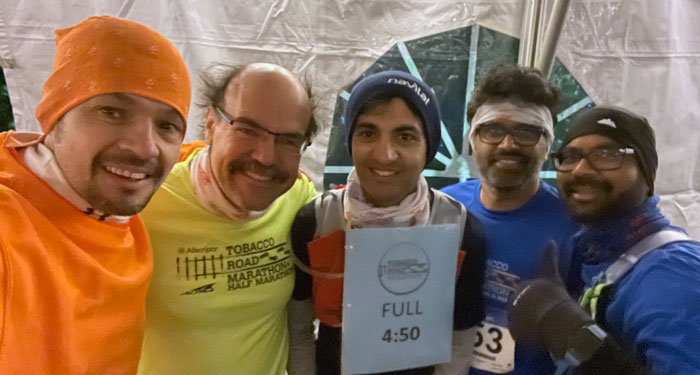 Mile 1-3:
Sugars were a tad on the high side, but I knew that was going to happen since I did not use bolus for the banana I ate a few minutes ago. These first miles were good steady miles. We took our time during the first mile to warm up just a tad slower than the target of 11:00 needed. The next couple of miles were on the faster side pace as the Marathon veered to the right to enter the trail. I was conscious of the form and checked the cadence and where I was landing on my feet since I was still a little bit tired from the mileage from last week.
Even with the great temperatures, I knew it was just going to warm up to the low 50s. And that was great news for me. I tend to really become dehydrated when the temperature goes closer to the 60s. At a couple of aid stations, I was going to get water but decided to skip them and let the runners grab something early to stay hydrated. Similar to other events that I have paced in the past, I was carrying my energy drink and fuel with me, and with these temperatures, it was not going to be an issue. 
Miles 4-8: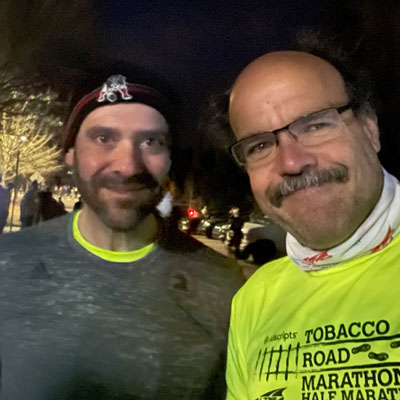 Now we were just Marathon runners on the trail; I took some time to introduce myself and Aaron, and for some reason, I kept calling him Eric. Truly I do not know why; he was great and did not correct me during the event, as we were going to spend a decent amount of time together. I talked again about the current plan we had for pacing and some of the approaches we were going to do, the target pace to meet 4:50, and the strategy at the water stations. Then we shifted the conversations with the runners in our group. Kallel and Venu started with us but quickly started to go a tad faster than the 11:00 minute per mile pace we were targeting for the pacer group. That was ok, and I had a gut feeling that it was going to happen. As long as they did not try to go 9:00 minutes per mile or faster, it was going to be ok for them. We then talked about their goals and their experience. Many runners in our group were tackling the Marathon for the first time; they were full of energy and excitement. We guided them when oncoming runners or cyclists were heading our way, making sure we all stayed safe.
We were always providing information and keeping the runners well informed about how long the rolling uphills and downhills were coming ahead. To this point, we were all on target pace. But knowing that this was going to be a long event and that it was early, I increased the pace just a touch, a few seconds, to be able to slow down at the water stations and give them a break in case they needed a bathroom break.
Great to see all the leaders and the other pacer groups that were ahead of us, especially reaching and after the turnaround. The whole group was encouraging each other when seeing the passing runners. It was great to see that, for the most part, we were having great conversations and fun. Seeing them chatting about different topics was fantastic; I was running with a smile. I sped up when we were coming close to the turnaround so I could use the porta-potty and be done by the time the group was passing the turnaround. We continued then to pass the turnaround, always providing a good shout-out to the volunteers and officers, making it safe for us to cross the intersections and all the runners passing by.
Miles 8-14:
At this point, we were feeling good; the weather was in the mid-40s, and we pressed the pace a bit on the downhill. Even with rolling hills, miles 10-14 can be a little bit challenging and could take some energy out of the runners. Crossing the halfway mark was uneventful; we asked them a requirement for the time split to count that they needed to be smiling by the time they crossed the mat for the halfway point. We all laughed about it, but I bet if I had a camera in front taking videos of pictures of the group, they all smiled as we crossed the timing pad. Everyone was happy and in good spirits to see how time had flown, and they were past the midpoint. I was still taking water and Gatorade at every aid station; by this time, I had already taken a couple of baby food pouches that I was carrying.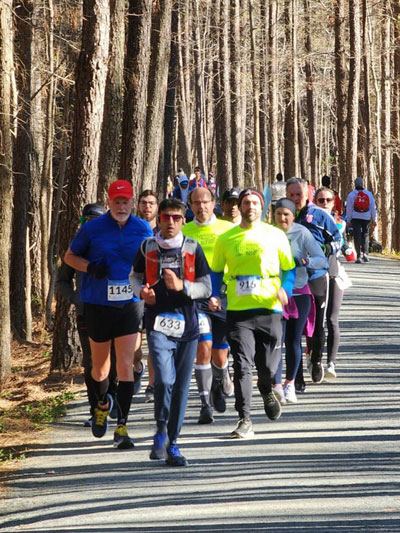 Miles 15-19:
At this point in the event, we were holding the pace. But I let the group know that we needed to press the pace during the flat, just a couple of seconds faster pace, as when we hit the turnaround, we were encountering once again some rolling long hills, and I want it to make sure we were in good shape tackling them. Just at the turnaround, we started to once again see a few more friends. Not much taking other than the "Looking strong", "Nicely done", "Hang in there" and the "go get it" We lost a couple runners as we were getting ready to tackle the hardest miles of the Marathon. Udit, a runner from InsaneRunning tackling his 1st Marathon, was struggling a little bit. I hang back with him for a little bit. Providing a few tricks to get his mind away from the discomfort and encouraging him to keep moving as he will soon start finding a second wind.  
---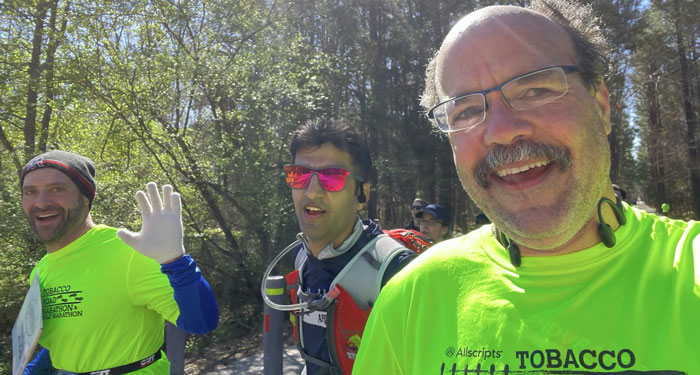 Miles 20-23:
I walked some at the aid stations as we were heading back to the start/finish area. Grabbing a couple of cups of Gatorade and one gel. The temperatures were still very optimal for running.. I was really happy to see that we still had many of the original groups with us.
Miles 24-26.2 (Finish):
At the final stretch, we were doing good. The group was feeling fantastic, and most of them pressed on the pace to finish strong, including Udit and another 1st-time Marathoner.. We encouraged them to continue ahead, as we had a job to complete, and that job was to finish a 4:50. Other runners were counting on us to bring them safely to the finish line. At the second to last downhill, we continued to pick up a couple of runners and hung with them during the last uphill. 
The last downhill towards the finish line is a nice long one; with the newly joined runners, we picked up the pace just a tad and delivered them with seconds to spare. Most of the runners were happy, although perhaps, in pain from the effort, they were very proud of what they had accomplished. We spend some time with them, talking and chatting about recovery and perhaps in which other event we will see each other again. It was a great event; it was a perfect day for a great run.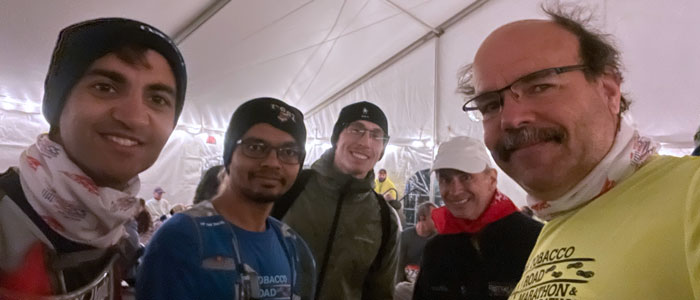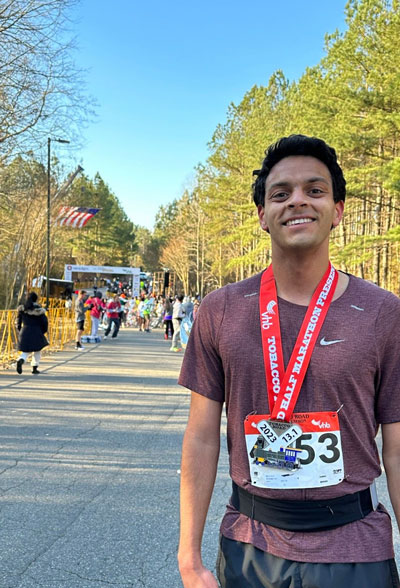 Many PRs, 1st-time finishers and BQ times today as the weather and the preparation of runners were superb. Walk pacing, Yuhsi and Anthony destroying the full. Alex exceeded his target goal for the half for a fantastic PR. Udit not only hung with us for plenty of miles but pressed the pace during the last two to finish well ahead of us. Rahul, Malini, Amy, Mark, and Ashley scored their 1st Marathon. Rahul was coming in super fast time for a first marathon. Jamie, Kaleel, and Venu successfully completed their last "long" run in preparation for our event in a couple of weeks. I think they were so surprised at how well they were feeling by the end and after the event. Even for me as one of the volunteers commented that I was the first runner seeing getting on the bus that was returning us to the parking area that was walking normally. I took that as a great compliment as I continued to walk and smile.
---

Once again, the medal for this year was a very cool medal. The next event on deck in a couple of weeks is The Legendary Umstead 100. 🙂 I know, I know, I am insane. Wish me luck!
| | | | | |
| --- | --- | --- | --- | --- |
| Month/Year | Event | Location | Type | Time |
| Mar-23 | Tobacco Road Marathon | NC | Full | 4:49:11 |
Highlights:
Course: Great ample road right of the start, narrowing a bit at the entrance of the trail close to mile 3. Except for a couple of small hills during miles 1-2 and 25-26, the course is mostly flat with long rolling hills.
Venue: At the finish, excellent, with plenty to drink and a nice bag of goodies.
Expo: Expo with some vendors or booths, but it was nice to browse around and talk to other friends and runners.
Weather: Perfect weather with some cloud coverage at the start followed by clear skies, great 35º with just 80% humidity at the start.
T1D: Sugars were good at the start, a tad on the high side. For the mid-event portion, they were stable.
Fueling: Pre-Race: 1 serving of Hot Cereal and Latte. Half of the banana about 10 minutes before start.
Race: Water and Gatorade at the water stations. Two Babyfood pouches and a Maurten caffeinated gel starting about an hour and a half into the event, then additional Tailwind and E-fuel that I carried.
Post: Protein shake and lots of water.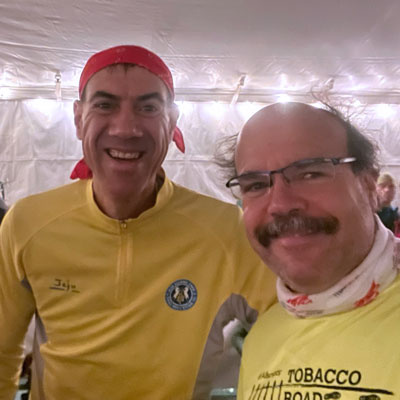 Learning Points:
It is so great to hear the stories and meet new runners in all these events..
Volunteering to pace a race is a great way to force yourself to a specific pace that will enable you to help taper, easily running a specific distance.