This is part of a series of posts regarding how I am preparing, planning, and training to complete the 100 miles Ultramarathon Umstead 100: Journey to 100. For all the ultrarunning series, here is Journey to 100, last week's post, and for additional ideas, follow the link. Training for a 100.

Final training week. Very low mileage to let the body recover. Even the stretches and gym sessions are very light in intensity. Just to get the blood flowing and warm up the body to get the active recovery going. I have started to add a few things to the cooler and backpack and figure out how to organize and fit everything that I might need during the event.
This is the final preparation week. Most of the details are not running preparation items. It is all about the mental, items to have, logistics, and packing. Now with that said, since I know you have been preparing along the way, with location, travel, and things to have, get, and test, it should be basically minor adjustments and following your checklist.
Assessment:
By now, you probably have devoured the runner's pamphlet/informational that the event coordinators provided. There are rules about who? When? How many? And information for pacers to know and follow. The runners are also responsible for their crew and pacer. This is very important to know, given that it is not just the runner that could cause or trigger a disqualification. And after all the time, miles, and training, who wants that?
Start checking your list and details. Review them with your crew and pacers. Allow them to ask questions and clarify as much as possible. A nervous or not informed pacer or crew could easily derail months of planning and preparations.
Get as much ready as you can; you want to reduce the time and stress of thinking about logistics or packing too close to the event. This week focus on getting as much rest as you can.
Planning:
Check and recheck your list.
Start packing and visually simulate how things are going to flow. Visualization is an effective tool to help you organize, calm your nerves, and be prepared and quick at the home station during the event.
Take care of those little items in advance, like skin care, foot care, and clipping or filing your nails. (Yes, this weekend is the time to groom and get those tiny side aspects that could make a difference in your experience more enjoyable.
Make sure you break in those new shoes you are planning to use during the event. Just because you are perhaps going to run at a slower pace than 5k, the same advice applies to Ultrarunning. No new things during the race. A 3-4 easy miles, or even a walk, will help stretch the flex of your new shoes.
Here is a resource about the mental game with some ideas you could use: Training for 100 miles: It is part of a mental game
---
---
How is the plan going:
Last training week and ready for the event, and it was another decent week; here are some highlights,
Monday: 1-mile warm-up at the gym, followed by some upper body strength training.
Tuesday: Easy running, this is just to get the legs moving
Wednesday: Some Yoga, a nice fun run at 3:00 PM, followed by our InsaneRunning Wednesday run.
Thursday: Since I had a double run day the day before, I decided to rest this day
Friday: 1-mile warm-up at the gym, followed by some upper-body strength training.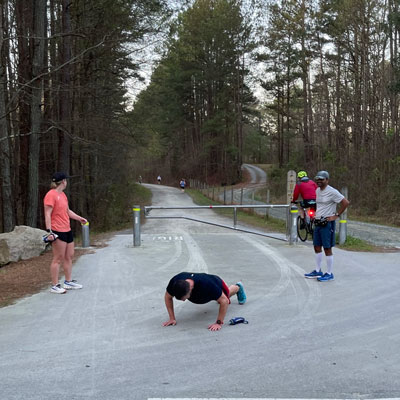 Saturday: Easy conversational long run. Although higher sugars in the morning and for the most part of the run got my effort level and heart rate higher than I would like. At least I knew exactly what it was and that there was not much to worry about this close to the event. Here at our Insaneruning group, we punish runners by having them do push-ups if someone stops running for whatever reason.
I was just informed that I was supposed to have the person that stopped running do the push-ups, not just Eric; oh well.
Sunday: Easy warm 6 miles. All is set; now to finalize the packing and logistics.
This week's actual numbers:
Next Week's Plan: Race week