Today, Tobacco Road Marathon restarted after a year and a couple of months of delays due to the COVID restrictions. It was a perfect day, perfect weather, and a perfect venue for an event. Last year I was ready when the decision was made to delay, I was going to use this event to prepare for the Umstead 100 but this year the event is happening after the Ultra event. So my legs are not 100% recover as most of the runs coming up to today's event have been easy slow miles.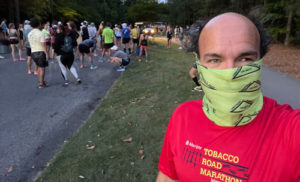 This year the organizers divided the event into two days, Saturday the full and Sunday the half. That way they can reduce the number of people in each event at any given time. In addition to a staggering start, similar to what I saw during the Umstead Ultra. I picked a 6:15 start, which was the earliest available to me. Last weekend I did 14 miles long run on Saturday and a few more easy miles on Sunday as my taper weekend.

The morning routine was the same as the previous long event. No changes to the breakfast and morning prep. Got to the area with enough time, sat in the car until it was close to 6:00 AM. I was feeling just a tad tired and sleepy when I got there.
The venue was missing a lot of features this time, the few tents, drop off. But I think the openness of the area was very nice. I was able to still talk to some of the runners, catch up with some friends that were doing the marathon, while others were volunteering. After the National Anthem, they had the Elite Runners and the 1st wave (6:00 AM) of runners ready to go. Plenty of space, plenty of distance, everyone wearing their masks.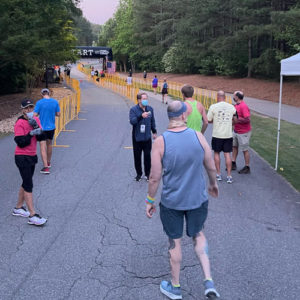 Once closer to the time they started letting runners walk down the starting staging chute area. Before you could get in they tested your temperature as a final check. Then it was a quick walk down to the start and off you go.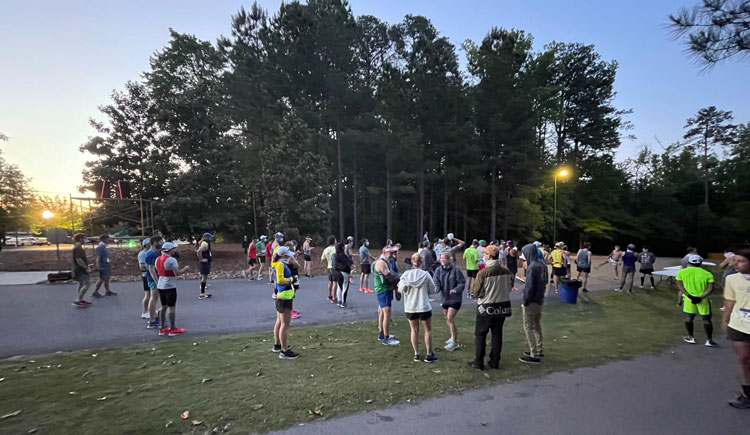 Mile 1-3:
I was a little bit stiff but ok. Sugars were a tad on the high side but I knew that I needed to bolus for the banana I ate a few minutes ago. These first miles were good steady miles. I was conscious about the form and checked the cadence and where I was landing on my feet. Even with the great temperatures, I knew it was going to warm up to the 70s. At the aid stations, there were limited choices and it was just going to be just water at all the stations. I grabbed a bottle of water at the 1st station and every station after that.
Miles 4-8:
Feeling a little bit better but not all the way. I increased the pace a little bit but it took some time to warm up. Since it was a staggered start, I was seeing lots of runners passing by. Especially after the turnaround. By smile every time I was able to see a friend or runner that I usually see during training runs. Always providing a good shout out that was met with another one back to me.

Miles 8-14:
At this point, I was feeling much better and pressed a bit more the pace. I passed a couple of runners at a steady pace. Crossing the halfway mark was uneventful. By now I already had my pouch of baby food, but had not touched the energy drink I was carrying. I was still just taking water at every aid station.

Miles 15-19:
At this point in the event, I was just doing ok, still holding the pace. One at a time I was constantly passing a few runner runners, but there were also many runners passing me. Just at the turn around, I started to once again see a few more friends. Not much taking other than the "Looking strong", "Nicely done", "Hang in there" and the "go get it"
Miles 20-23:
Similar to last year I slowed down a bit again during these miles. At this time my left calf started to act up. I did not want it to make it worse given that tomorrow was going to be another long day, so I did some walking to see if it got better. I said to myself, take it easy you will be fine. Unfortunately, I believe the walking was also making it a little bit more stiff, so slow running felt better for a bit. I alternated for a couple of miles.
I found myself walking more than I want it when a couple of runners doing a training run asked me a question, I started to run with them and they want it to know if I was the runner that is constantly running one of the streets I take to get to the trails. That took my mind off the calf issue and was able to run for some time until their turnaround. The sun is out by this time and the temperature was closer to the 70s by now.

Miles 24-26.2 (Finish):
At the final stretch, I was feeling it on my legs, so I started to have a little bit more fun. I started to sing as I was running for a bit, then talked to other runners that were walking. Down the hill towards the finish line, I picked up the pace just a tad. Although not that many runners, given we were all more spread out along the course, it was nice to see the few runners coming in. Most of them happy, some not that happy and others touched by the deep feeling of accomplishment and pride. It was a perfect day for a great run.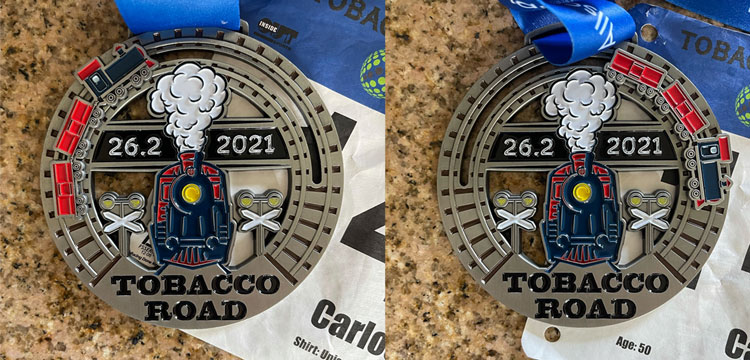 Plus the medal for this year was a very cool medal, with a train that goes from left to right around the upper perimeter of the medal. A train engine for the full, a wagon for the Half, and a caboose for huh?…
Now to rest and stretch. Next event on deck, Tomorrow The Tobacco Road Half Marathon. I know, I know, I am insane, wish me luck!
| | | | | |
| --- | --- | --- | --- | --- |
| Month/Year | Event | Location | Type | Time |
| Mar-21 | Tobacco Road Marathon | NC | Full | 4:35:39 |
Highlights:
Course: Great ample road right of the start, narrowing a bit at the entrance of the trail close to mile 3. With the exception of a couple of small hills during miles 1-2 and 25-26, the course is mostly flat with long rolling hills.
Venue: At the finish, excellent, plenty to drink, and a nice bag of goodies.
Expo: No Expo due to COVID
Weather: Perfect weather with some cloud coverage at the start followed by clear skies, great 44º with just 100% humidity.
T1D: Sugars were good at the start, a tad on the high side. For the mid-event portion, they were stable.
Fueling: Pre-Race: 1 serving Hot Cereal and Latte. Half of the banana about 10 minutes before start.
Race: Water at the water stations. Baby food intake was about an hour and a half into the event then additional Tailwind and E-fuel that I carried.
Post: Protein shake and lots of water.
Learning Points:
Running at a slow pace is key for long back-to-back events.

Running by effort can help you find the zone and stay there for longer.